HUD No. 06-023
Donna White
(202) 708-0685
For Release
Monday
February 27, 2006
---
JACKSON ADDRESSES INDIAN LEADERS' WASHINGTON SUMMIT
HUD loan guarantee program projected to create 1,000 new Native American homeowners in 2006
WASHINGTON - U.S. Department Housing and Urban Development Secretary Alphonso Jackson told Native American leaders today the Bush Administration is committed to increasing the number of Native American homeowners.
Jackson addressed attendees of the National Congress of American Indians" (NCAI) Tribal Nations Legislative Summit being held in Washington. NCAI is the leading advocacy organization for Native Americans with 250 member tribes. Tribal leaders from across the country have gathered in the Nation's Capital for the next three days to meet with members of Congress and Bush Administration officials on issues important to Indian Country.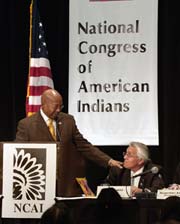 "HUD has a vital role in helping more Native Americans realize the American Dream of homeownership," said Jackson. "A family's economic independence often begins with homeownership. HUD is here to help provide this foundation by expanding innovative programs that have proven success."
Jackson spoke specifically about two HUD loan guarantee programs - Section 184 and Title VI - that are helping tribes assist members to purchase or rehabilitate homes by guaranteeing loans at 100 percent.
"These two programs coupled with other HUD initiatives will make the President's commitment to create 5.5 million more minority homeowners by the end of this decade a reality that we can all be proud of," said Jackson.
Just in the past three years, the Section 184 program has proven to be an effective tool to increase Native American homeownership. The program was created in 1994 to address the lack of mortgage lending for Native Americans. It was designed to give Native American families the opportunity to purchase their own homes. Since 1995, when HUD guaranteed its first Section 184 loan, there have been more than 2,800 loans guaranteed with a dollar value in excess of $300 million.
This year alone, HUD's Office of Native American Programs is on pace to guarantee another 1,000 loans for $120 million. The President's 2007 proposed budget includes a $2 million increase for the Section 184 program, which is currently funded at $4 million. The President's request also doubles the amount of money HUD makes available under Section 184 to back mortgages - from $116 million to $251 million.
The Section 184 program provides a 100 percent guarantee for mortgages on Indian lands, enabling private sector lenders to make mortgage loans to eligible Natives American families, tribes and tribal housing entities that are purchasing homes. The program can also be used to rehabilitate existing homes, build new homes and refinance higher interest rate loans.
Previously, Native Americans participating in the Section 184 program were limited to the purchase of homes on land owned by the tribe, usually known as "trust" or "restricted" lands. As a result, Native American homeownership opportunities remained primarily on reservations. Under new guidelines, established last year, tribes and tribal housing entities can provide Section 184 homeownership opportunities beyond their reservations.
The Title VI program allows tribes to leverage their Indian Housing Block Grants by pledging current and future block grants to finance affordable housing activities within the tribal community such as buying and rehabilitating homes. The flexibility associated with the Title VI program also allows tribes to use the leverage funds as seed money to build facility infrastructure that support the housing, such as community centers, health clinics and public utilities. Significant changes were made to this program last year that will make it more effective. For example, HUD has created a method to shorten the processing time to guarantee loans. In 2006, the Title VI program has had the highest number of applications since its inception.
HUD is the nation's housing agency committed to increasing homeownership, particularly among minorities; creating affordable housing opportunities for low-income Americans; and supporting the homeless, elderly, people with disabilities and people living with AIDS. The Department also promotes economic and community development as well as enforces the nation's fair housing laws. More information about HUD and its programs is available on the Internet and espanol.hud.gov.
##