HUD No. 06-031
Dustee Tucker
(202) 708-0980
For Release
Tuesday
March 28, 2006
---
HUD SECRETARY JACKSON CO-CHAIRS MINORITY LEADERSHIP SUMMIT
Secretary delivers keynote on bridging the gap between minorities and white Americans
WASHINGTON - Today, HUD Secretary Alphonso Jackson delivered the keynote address at a luncheon for the African American Leadership Summit. The Secretary joined Senator Kay Bailey Hutchison (R-TX) to serve as an honorary co-chair for the summit. The affair brings African American leaders from across the country to discuss issues affecting the minority community.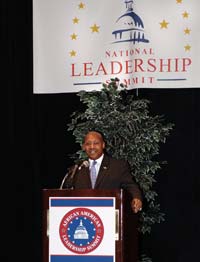 "I am pleased to join Senator Hutchison for this important event that will provide a unique opportunity for black leaders from both sides of the aisle to learn more about the policies that affect them," HUD Secretary Jackson said. "This is a topic I care deeply about because I believe the President's policies are the surest path to our prosperity."
Secretary Jackson joined elected officials to address the gap that exists between minorities and white Americans and stressed the importance of increasing the number of minority homeowners. The summit highlighted other issues, including education, community and faith-based initiatives, economic growth and health care. The Secretary also discussed the importance of advancing the President's goals for 2006 and how these objectives will benefit minority families.
"The President's minority homeownership pledge says something about the greatness of America," Jackson said. "We are committed to creating 5.5 million new minority homeowners by the end of the decade. Thanks to programs such as the American Dream Downpayment Initiative and HOME, we've had 2.6 million new minority homeowners in less than four years."
Secretary Jackson remains committed to the President's agenda and encouraged the audience to look beyond the politics and focus on the heart of real issues.
"The President is not motivated by praise. He knows today's scandals will be forgotten tomorrow and that today's victories will be viewed differently in the years ahead," Jackson said. "I hope all of you will look at the record - not the rhetoric - of our nation's leaders."
HUD is the nation's housing agency committed to increasing homeownership, particularly among minorities; creating affordable housing opportunities for low-income Americans; and supporting the homeless, elderly, people with disabilities and people living with AIDS. The Department also promotes economic and community development as well as enforces the nation's fair housing laws. More information about HUD and its programs is available on the Internet and espanol.hud.gov.
###