HUD No. 06-058
Brian Sullivan
(202) 708-0685
For Release
Tuesday
May 30, 2006
---
JACKSON APPROVES LOUISIANA'S $4.6 BILLION "ROAD HOME PROGRAM"
Calls for quick Congressional approval of additional $4.2 billion for Louisiana
NEW ORLEANS - Housing and Urban Development Secretary Alphonso Jackson today announced he is approving a $4.6 billion plan proposed by the State of Louisiana to create The Road Home Program. Louisiana intends to use funding provided through HUD's Community Development Block Grant (CDBG) Program to offer up to $150,000 to certain eligible homeowners whose primary residences were destroyed or severely damaged following Hurricanes Katrina and Rita. Jackson made today's announcement during a news conference with Governor Kathleen Babineaux Blanco and New Orleans Mayor Ray Nagin.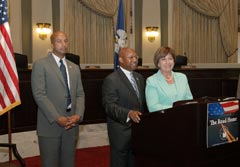 The funding is part of $6.2 billion in CDBG assistance Jackson allocated to Louisiana in January to assist the state in its long-term recovery efforts. Earlier this month, Jackson approved Louisiana's first CDBG-funded plan that provides $368.4 million to meet the state's infrastructure needs, to provide interest-free small business bridge loans, and to lay the groundwork for the state's homeowner assistance program approved today.
"This plan is a significant step toward rebuilding new, vital neighborhoods in Louisiana and will help put out the welcome mat for folks to come home," said Jackson. "HUD will continue to work closely with Louisiana to make sure the new communities that emerge will be places any Louisianan will be proud to come home to."
"Every day that our people are out of their homes is a day too many," said Governor Blanco. "With approval of our housing plan, the road home is truly within our reach. On behalf of our citizens, the Louisiana Recovery Authority, and the Louisiana Legislature, I want to thank HUD for being our partner in recovery."
Jackson also called on Congress to quickly approve an additional $4.2 billion in CDBG funding to further support Louisiana's long-term recovery and expressed hope that the state will devote significant resources toward expediting the return of public housing residents to the City of New Orleans.
Jackson added, "Any road home must include public housing residents who are desperate to come home too. I'm very hopeful that Congress will act to appropriate more disaster assistance to Louisiana and that the long-term rebuilding of public housing will be a part of the State's effort to bring its residents home again."
Louisiana's CDBG-funded Road Home Program approved today will:
Provide maximum grants of up to $150,000 for certain eligible homeowners who agree to repair, rebuild or purchase replacement homes in Louisiana;
Support affordable rental housing for lower income families and the workforce necessary to ensure the state's long-term recovery;
Restore resources to meet the needs of homeless persons and families for housing and supportive services; and,
Offer incentives to developers to construct attractive mixed-use housing developments (both rental and homeowner), particularly in the New Orleans metropolitan area.
Mayor Nagin said, "I would like to thank President Bush and Secretary Jackson for their continued support and look forward to working with Governor Blanco for the people of New Orleans to achieve what the President said to make New Orleans a shining example for the nation."
Assistance to Homeowners ($3.5 billion)
Louisiana's Road Home Program seeks to help thousands of displaced homeowners whose primary residences were either destroyed or suffered major damage due to Hurricanes Katrina and Rita. Among the requirements of the program, homeowner assistance grants will be based on the extent of damage and the owner's commitment to repair, rebuild, or relocate within the state. Homeowners may also agree to sell their home to the state with no requirement to resettle or otherwise remain in their community.
Workforce and Affordable Rental Housing Programs ($892.7 million)
To encourage the production of affordable rental housing, Louisiana's Road Home program plans to commit $892.7 million to help displaced renters and the labor force necessary to guarantee the long-term recovery of the state. This program seeks to develop up to 51,000 affordable rental units within mixed-income developments for persons and families earning between 20 and 60 percent of the area's median income.
Louisiana's plan also provides for special need families or persons at high risk for homelessness due to their extended displacement. The state intends to fund supportive services for approximately 1,870 housing units. The supportive housing units will both house and serve individuals and families with special needs, including renters returning to Louisiana after enduring months of resettling in shelters, hotels and other transitional housing environments. In addition, Louisiana intends to use its call centers and Homeowner Registry to develop a database of renters seeking housing so they can be matched with available rental housing.
Restoration of Homeless Supports and Housing ($25.9 million)
Hurricanes Katrina and Rita severely undermined Louisiana's ability to house and serve persons who are homeless. Thirty-six shelters that assisted nearly 1,800 homeless individuals sustained considerable damage. As a result, Louisiana's action plan commits $25.9 million to immediately restore and expand the state's capacity to assist homeless persons and families.
Developer Incentives ($32.1 million)
Louisiana recognizes that in many hurricane-affected neighborhoods, special incentives may be necessary to stimulate the development of new, attractive mixed-income housing. As a result, the state's action plan will provide $32.1 million to develop a "toolkit" of incentives to encourage developers to rebuild housing in areas that suffered the greatest losses.
To read the full text of Louisiana approved action plan, visit HUD's website.
Rebuilding Public Housing
During today's news conference, Jackson also announced that HUD is reinvesting $154 million for the rebuilding of public housing in New Orleans as well as dispatching a team of the Department's experts from around the country to accelerate the process. Under President Bush's Gulf Opportunity Zone initiative, the Housing Authority of New Orleans (HANO) has applied for Low-Income Housing Tax Credits for 11 separate affordable housing developments in New Orleans. In addition, HANO submitted seven tax credit applications to the Louisiana Housing Finance Agency to stimulate the public and private investment needed to promote the development of even more affordable homes for displaced public housing residents in New Orleans.
HUD is the nation's housing agency committed to increasing homeownership, particularly among minorities; creating affordable housing opportunities for low-income Americans; and, supporting the homeless, elderly, people with disabilities and people living with AIDS. The Department also promotes economic and community development and enforces the nation's fair housing laws. More information about HUD and its programs is available on the Internet and espanol.hud.gov.
###