HUD No. 06-119
Steve O'Halloran
(202) 708-0980

For Release
Monday
September 25, 2006
---
HUD SECRETARY, CONGRESSMAN DAVIS VISIT COMMUNITY CENTER AND FIRST-TIME HOMEOWNERS IN NEWPORT, KENTUCKY
Jackson stresses importance of voucher homeownership assistance for low-income families, announces $34,000 housing counseling grant for northern Kentucky facility
NEWPORT - U.S. Housing and Urban Development Secretary Alphonso Jackson and Congressman Geoff Davis (KY-04) today congratulated several low-to-moderate families in northern Kentucky on becoming first-time homeowners and reaffirmed the importance of housing counseling classes and HUD's innovative voucher homeownership program. The Secretary also awarded a $34,000 grant to a community center in Newport that is providing families with critical advice and guidance on the home buying process.
"It gives me great pleasure to see firsthand how critical housing counseling programs and HUD resources at the Brighton Center are helping more families achieve the American Dream of homeownership," said Jackson. "I thank Congressman Davis for his continued commitment to expanding affordable housing opportunities throughout northern Kentucky."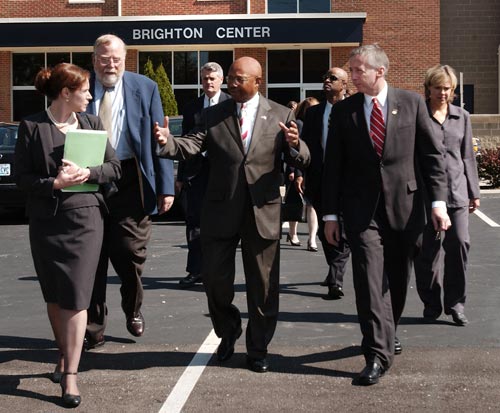 Seretary Jackson and U.S. Congressman Geoff Davis tour the Brighton Center, a housing couseling center in Newport KY Sept. 26, 2006.
"I am thankful that Secretary Jackson has come to Kentucky to discuss the importance of homeownership," said Congressman Davis. "It is a thrill to share in the excitement of these new homeowners as we work to expand the American Dream by educating others on the possibilities of homeownership. Increasing the availability of affordable housing options is one of my top priorities in Congress, and I thank Secretary Jackson for his work on these important issues."
Following a tour of the Brighton Center, a full service community center in Newport, Kentucky, Jackson met with eight families who recently graduated from the center's housing counseling program. These classes taught residents how to stabilize their families, build assets, and manage money efficiently.
Initially, these families relied on their local public housing authorities to help them make their monthly rent payment. Now, thanks to HUD's Housing Choice Vouchers homeownership program (HCV), they have joined nearly 8,000 other families nationwide who have become homeowners and are using their rental assistance to pay their mortgage and support other housing needs, such as insurance payments and utility allowances. Like the voucher program, the HCV program still requires families to pay a minimum amount towards their monthly-adjusted income.
Serving 1.5 million families over the past 40 years, the Brighton Center offers family services, child development, youth services, and other community revitalization programs in addition to homeownership education classes. Recognizing the value of this organization, HUD has provided nearly $16 million in financial assistance to the Brighton Center since 1985.
Today, the Secretary presented the Brighton Center with a $34,442 housing counseling grant, which was part of a larger $39 million package that the Bush Administration awarded to 17 national and regional organizations and 400 state and local housing counseling agencies around the country. Over the past two years, the Brighton Center has received more than $400,000 from HUD to provide emergency shelters and offer residents financial literacy and counseling services.
"Under the Bush Administration, more families are receiving counseling services than ever before, and more are purchasing and keeping their homes," said Jackson. "This program is also helping more families find the help they need to secure decent and affordable rental housing."
HUD is the nation's housing agency committed to increasing homeownership, particularly among minorities; creating affordable housing opportunities for low-income Americans; and supporting the homeless, elderly, people with disabilities and people living with AIDS. The Department also promotes economic and community development, and enforces the nation's fair housing laws. More information about HUD and its programs is available on the Internet and espanol.hud.gov. For more information about FHA products, please visit www.fha.gov.
-###-