HUD No. 07-060
Michael Zerega
(202) 402-8441
For Release
Wednesday
May 9, 2007
---
HUD SPECIAL AGENT "RIDES FOR THOSE WHO DIED"
250-mile trek in special memory for fellow agent killed in Oklahoma City bombing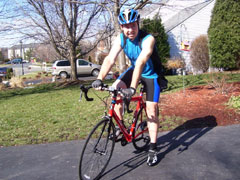 WASHINGTON - Kevin Whalen didn't know Paul Broxterman but feels a personal connection to him. Broxterman served as a special agent in HUD's Office of Inspector General when he and 34 other HUD employees were killed 12 years ago in the bombing of the Alfred P. Murrah Federal Building in Oklahoma City. As a special agent himself, Whalen will honor Broxterman's memory as he joins hundreds of other law enforcement officers as they bike 250 miles from Virginia Beach to Washington, DC as part of National Police Week activities.
Paul was one of ours and I wanted to make sure he's not forgotten," said Whalen, who dedicated months of training in preparation for this weekend's ride. "I've always been a strong supporter of the National Law Enforcement Memorial so this is something I had to do."
Since 1997, the Police Unity Tour has raised $3.2 million to benefit for the National Law Enforcement Officers Memorial Fund in Washington, D.C. This year's theme is "We Ride for Those Who Died."
Whalen is also dedicating his ride to Fairfax County Police Officers Vicky Armel and Michael Garbarino who were killed in the line of duty one year ago. In what has become a regular National Police Week event, hundreds of law enforcement officers will make the ride from the Virginia Beach area to Washington, D.C. in memory their fellow officer who died in the line of duty.
The National Law Enforcement Officers Memorial Fund hosts an annual Candlelight Vigil to pay special tribute to those officers who have given their lives in the line of duty. Currently there are 17,917 names engraved on the Memorial, representing officers from all 50 states, the District of Columbia, US territories, and Federal law enforcement and military police agencies.
For more information about this year's Unity Tour, visit www.firstgiving.net/kevwhalen.
###