HUD No. 07-063
Steve O'Halloran
(202) 708-0980
For Release
Monday
May 14, 2007
---
HUD STRESSES PRESERVATION AND PROTECTION AT HOMEOWNERSHIP SUMMIT
Jackson lays out six areas of agreement for renewing confidence in the homebuying process
WASHINGTON - The U.S. Department of Housing and Urban Development today hosted a Homeownership Summit with leading stakeholders in the housing community to discuss the impact of risky, high-priced loans, departmental actions against predatory lending and how modernizing the Federal Housing Administration will provide a safer alternative to exotic mortgages. Delivering the keynote address, HUD Secretary Alphonso Jackson laid out seven areas of agreement for preserving and protecting homeownership, helping new homeowners keep their homes and vastly improving lending practices.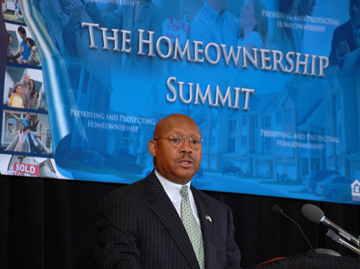 Secretary Jackson lays out seven areas of agreement for renewing confidence in the home buying process at the Homeownership Summit in Washington, D.C.
"We must make the American Dream a realistic possibility for as many Americans as possible," said Secretary Jackson. "This is not an option; it is a duty. And that goes beyond policy-makers and regulators. It is a shared duty with investors, associations, consumers, and communities themselves."
Today's summit invited over 150 investors, consumer advocates, decision-makers and key advisors to assess the current housing situation and offer up recommendations. Secretary Jackson noted that all in attendance share the goal to make this an ownership society and achieving this goal begins with the recognition of common ground.
"HUD has vigorously investigated and prosecuted predatory lending. We have restrained or stopped several companies engaged in questionable practices. We must give consumers the highest possible confidence in the housing purchasing process. I believe we must create an extremely high expectation of transparency and honesty for lending on all levels and by all lenders," Jackson added.
During the summit, Jackson laid out seven areas of agreement for protecting and preserving homeownership:
Homeownership is still the best investment for the long-term.
Every responsible step must be taken to enable Americans to become homeowners.
Lending should be legal, fiscally responsible, and ethical.
Housing counseling is critical and borrowers must read the fine print before buying a home.
There is no place for predatory lending in the housing industry.
Modernization of the Federal Housing Administration is long overdue
A taxpayer-funded bailout will not resolve housing concerns
An advocate for smarter mortgage alternatives, Jackson said today's summit was a part of HUD's comprehensive effort to encourage Congress to pass legislation that modernizes the FHA. The program has helped more than 34 million families become homeowners over the past 73 years, and prevented 75,000 families from losing their homes to foreclosure in Fiscal Year 2006 alone. However, as lending practices have evolved and modernized, the FHA has been unable to do so with out legislation.
"FHA has been a blessing for so many people. However, reforms must be made for FHA to adapt to today's marketplace," said Secretary Jackson. "We have internally modernized FHA as much as we can. But the time has come to bring FHA into the 21st Century. A new FHA could be an antidote for predatory lending and for sub-prime difficulties."
Last year, the Bush Administration proposed a set of changes to the FHA program that would expand its reach by eliminating outdated downpayment requirements, customizing mortgage premiums for each homebuyer according to risk, and raising loan limits across the country. The bill, the Expanding American Homeownership Act of 2006, passed the House with overwhelming bipartisan support in July 2006.
"We must preserve and protect homeownership. We must help new homeowners keep their homes. We must vastly improve lending practices. We must create a more stable, solid, and successful investment environment. We must provide protection for future homeowners and encourage future homeownership for millions of Americans," concluded Jackson.
Following the Secretary's remarks, two panels took place to discuss ways government, nonprofit, financial, and mortgage groups can help borrowers safely get into homes and avoid foreclosure. Panel participants met in closed-door sessions moderated by Michelle Singletary of the Washington Post and Syndicated Columnist Ken Harney.
Summit participants included:

Moderator:

Michelle Singletary

Nationally Syndicated Columnist, The Washington Post

Panelists:

Colleen Hernandez

President and Executive Director, Homeownership Preservation Foundation

Robin Stout Magala

Senior Delinquency Resolution Manager, Freddie Mac

Marcia Griffin

Founder and President HomeFree-USA

Ken Wade

Chief Executive Officer, Neighborworks America

Moderator:

Ken Harney

Nationally Syndicated Housing Columnist, Washington Post Writers Group

Panelists:

John Anderson

Senior Vice President, First Madison Services

Douglas Garver

Executive Director, Ohio Housing Finance Agency

William Longbrake

Senior Advisor, Housing Policy Council, Financial Services Roundtable

George Miller

Executive Director, American Securitization Forum
-###-
HUD is the nation's housing agency committed to increasing homeownership, particularly among minorities; creating affordable housing opportunities for low-income Americans; and supporting the homeless, elderly, people with disabilities and people living with AIDS. The Department also promotes economic and community development, and enforces the nation's fair housing laws. More information about HUD and its programs is available on the Internet and espanol.hud.gov.