HUD No. 09-055
Jereon Brown
(202) 402-6628
For Release
Friday
May 8, 2009
---
RON SIMS SWORN IN AS HUD'S DEPUTY SECRETARY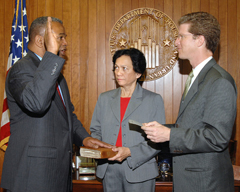 HUD Secretary Shaun Donovan (right) administers the oath of office to Deputy Secretary Ron Sims as Sims' wife, Cayan Topacio, holds the Bible.
(High-resolution photo)

WASHINGTON - Ron Sims was sworn in today as the Deputy Secretary of the U.S. Department of Housing and Urban Development. Sims was unanimously confirmed by the U.S. Senate on May 6, 2009. As the second most senior official at HUD, Sims will be charged with managing the Department's day-to-day operations, a nearly $39 billion annual operating budget, and the agency's 8,500 employees.
"President Obama, Secretary Donovan, and Congress have all voiced a clear expectation that HUD can and must now step up to unprecedented levels of leadership in America's national recovery," said Sims. "I am ready to help Secretary Donovan to bring transformational change to HUD. This organization must work - and it must serve not simply as a pass-fail bureaucracy. It must be a creative engine of ideas, actions and tools -- in which employees, partners and our customers are empowered to implement a shared vision of the future."
HUD Secretary Shaun Donovan said, "The drive and vision Ron brings is critical to our efforts to not only transform the Agency but to help the nation's communities recover and to better position them for the future. Our leadership team is now coming together and we can now focus on systemic reform, policy innovation, and harnessing private sector capital and talent as well as new kinds of partnership and collaboration to respond to the nation's housing crisis."
Formerly the King County, Washington Executive, Sims earned numerous accolades and a national reputation for his environmental stewardship, aggressive reforms of government, and for his willingness to make the tough choices necessary to ensure that American tax dollars are spent wisely.
Sims is a graduate of Central Washington University.
###
HUD's mission is to create strong, sustainable, inclusive communities and quality affordable homes for all. HUD is working to strengthen the housing market to bolster the economy and protect consumers; meet the need for quality affordable rental homes: utilize housing as a platform for improving quality of life; build inclusive and sustainable communities free from discrimination; and transform the way HUD does business. More information about HUD and its programs is available on the Internet at www.hud.gov and espanol.hud.gov. You can also follow HUD on twitter @HUDnews, on facebook at www.facebook.com/HUD, or sign up for news alerts on HUD's News Listserv.