HUD No. 09-120
Lemar Wooley
(202) 708-0685
For Release
Wednesday
July 15, 2009
---
DAVID STEVENS SWORN IN AS HUD ASSISTANT SECRETARY FOR HOUSING AND FHA COMMISSIONER
WASHINGTON - David Stevens was sworn in today as Assistant Secretary for Housing and Federal Housing Administration (FHA) Commissioner at the U.S. Department of Housing and Urban Development. Stevens was confirmed by the U.S. Senate on July 10, 2009.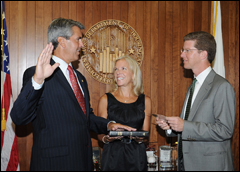 HUD Secretary Shaun Donovan (right) administers the oath office to Assistant Secretary for Housing and FHA Commissioner David Stevens as Stevens' wife, Mary Stevens, holds the bible

"David Stevens is an innovator in the housing industry and he is the right person to lead FHA as it continues to help hundreds of thousands of families finance their homes with lower rates and better terms," said HUD Secretary Shaun Donovan. "David's knowledge in real estate, housing and the mortgage industry will help us overcome the current challenges we face, he will implement changes that protect FHA and will enhance its risk management capabilities to protect its future viability."
Prior to his appointment, Stevens served as the president and chief operating officer of the Long Foster Companies, which includes Long Foster Real Estate and its affiliated businesses, including mortgage, title, insurance and home service connections.
"I welcome the challenge and I am grateful for the opportunity to work with Secretary Donovan in carrying out the Obama Administration's housing vision," Stevens said. "HUD has a vitally important job to do in helping those affected by the housing crisis and I am honored to have been chosen to help lead this national effort to help families and individuals through these troubled times."
As Assistant Secretary for Housing-Federal Housing Commissioner, Stevens will be responsible for overseeing the $600 billion FHA insurance portfolio and HUD's multifamily subsidized housing program. In addition, he will oversee HUD's regulatory responsibilities in the areas of the Real Estate Settlement Procedures Act (RESPA), and the manufactured housing industry.
Stevens' background also includes serving as Executive Vice President, National Wholesale Manager at Wells Fargo Home Mortgage's wholesale channel; Senior Vice President of single family business at Freddie Mac; and, a 16-year tenure at the World Savings Bank, where he began his career. He is also the founding executive sponsor of the Women's' Mortgage Industry Network and while at Freddie Mac, he coordinated the first Latino joint venture initiative with Freddie Mac and Latino mortgage industry leaders.
Stevens is a graduate of the University of Colorado at Boulder.
###
HUD's mission is to create strong, sustainable, inclusive communities and quality affordable homes for all. HUD is working to strengthen the housing market to bolster the economy and protect consumers; meet the need for quality affordable rental homes: utilize housing as a platform for improving quality of life; build inclusive and sustainable communities free from discrimination; and transform the way HUD does business. More information about HUD and its programs is available on the Internet at www.hud.gov and espanol.hud.gov. You can also follow HUD on twitter @HUDnews, on facebook at www.facebook.com/HUD, or sign up for news alerts on HUD's News Listserv.