HUD No. 13-065
Donna White
(202) 708-0685
For Release
Thursday
May 2, 2013
---
HUD AND ENTERPRISE SHOWCASE SUSTAINABLE CONSTRUCTION DESIGN IN INDIAN COUNTRY
WASHINGTON - The U.S. Department of Housing and Urban Development (HUD) and Enterprise Community Partners (Enterprise) showcased Native American communities' use of sustainable design and construction strategies today at the National Museum of the American Indian. The event is part of HUD's and Enterprise's continuous effort to promote sustainable construction techniques in Indian Country.
HUD's Office of Policy Development and Research (PD&R) and the Office of Native American Programs (ONAP) co-hosted a program with Enterprise that featured 22 Native American communities' work that incorporates sustainable and resource-efficient elements in their affordable housing and community development projects. The program is part of the Sustainable Construction in Indian County initiative (www.huduser.org/portal/SCinIC/home.htm), in which PD&R and ONAP partner with Native American communities. This joint venture was developed to promote understanding of the benefits of sustainable construction and help spur wide-spread adoption of sustainable construction technologies in Indian Country.
"Building sustainable housing allows tribes to better control operating and utility costs, and produce homes that are healthier, more comfortable, durable, and energy efficient," said Rodger Boyd, Deputy Assistant Secretary for HUD's Office of Native American Programs. "The event illustrates the long-term value of thoughtful planning and integrated whole building design."
"From the inception of this initiative HUD has worked hand-in-hand with Native American communities to help construct better homes that use the latest building technologies while respecting traditional building techniques," said Todd Richardson, Associate Deputy Assistant Secretary for Policy Development for HUD's Office of Policy Development and Research. "We're pleased to document the use of sustainable construction practices and share them to benefit tribal communities looking for best practices and to learn from their peers."
"There are challenges throughout the country to develop better sustainable housing including on Indian reservations," said Terri Ludwig, President and CEO of Enterprise Community Partners. "Because of HUD's support, through training and technical assistance, today's program gives a glimpse of promising solutions underway by tribes across the country."
The showcase featured the deliberate efforts these tribes have undertaken to incorporate elements of sustainability in their construction efforts - sustainability that has both recently, and traditionally, played a key role in all Native American traditions. The gathering gave Native communities an opportunity to showcase their sustainability work; discuss their efforts with colleagues and Washington policymakers; and underscore how Native American communities can work together to learn about and incorporate sustainable strategies in both housing and community design and development.
The chart below lists the tribes that are part of the Sustainable Construction in Indian County initiative.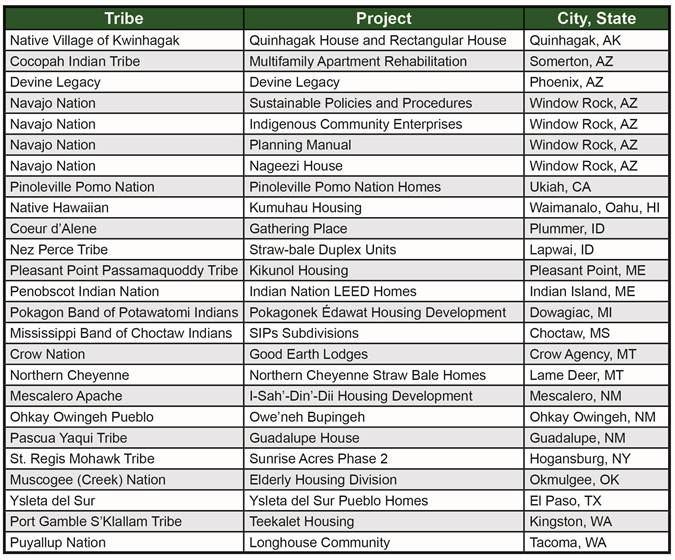 The following tribal communities were recognized today:
Native Village of Kwinhagak (NVK), Housing Department, Quinhagak AK
NVK is constructing two housing designs that can withstand the region's wet and windy weather and developing a self-help housing construction program to defray housing costs. The designs focus on durability, energy efficiency, and light-weight materials. They include a number of design innovations, such as a continuous monolithic thermal envelope, which is a lightweight wall system coated with spray foam on the inside of its exterior wall.

Cocopah Indian Tribe, Cocopah Indian Housing and Development (CIHAD), Somerton, AZ
To combat desert heat and dryness, the CIHAD has worked with its utility provider to make affordable energy efficiency improvements to three apartment buildings. The CIHAD is in the process of installing low- emissivity windows, 30-year shingles, upgraded air conditioning, and energy efficient appliances. A utility program provided compact fluorescent lamps (CFLs), faucet aerators, and low-flow showerheads as well as utility bill data to assist the CIHAD in determining baseline costs.
Navajo Nation, Navajo Housing Authority (NHA), Window Rock, AZ
As part of a move to integrate sustainability into their regular housing development practices, the NHA is exploring the potential for developing an interdisciplinary design review commission, revising the RFQ/RFP selection process to reflect cultural/sustainable goals, and adopting a community-based design/planning process, together with a modified Navajo version of Enterprise Green Communities criteria.
Nez Perce Tribe, Nez Perce Housing Authority (NPHA), Lapwai, ID
NPHA is planning 20 duplex housing units, which will be constructed with straw bale infill, timber framing, and structural insulated panels (SIPs) for the roof, all on a frost protected shallow foundation. Cultural design features include east-facing doorways and circular housing clusters with primary eastern orientation, materials that recall traditional reed mat homes, "shed roof forms" to recall extended teepees, and carports constructed with wood frames to recall Nez Perce traditional shade structures.
Pokagon Band of Potawatomi Indians, Department of Natural Resources, Dowagiac, MI
The Band's long-term plan views water management and conservation as an integral aspect of a well-thought-out land use and community planning strategy. As such, the project's watershed protection features include bioswales, cluster housing design, permeable pavement, and replacement of invasive plant species with prairie grasses and indigenous vegetation.
Mississippi Band of Choctaw Indians (MBCI), Choctaw Housing Authority (CHA), Choctaw, MS
Over the past 3 years, the CHA has constructed 74 single-family homes and eight duplexes with SIP walls and roof. Additionally, all of the homes are additionally equipped with low-emissivity windows and doors, CFL lighting, high efficiency HVAC systems, and ENERGY STAR® appliances.
St. Regis Mohawk Tribe, Akwesasne Housing Authority (AHA), Hogansburg, NY
The AHA completed construction on five quadplex buildings for elders in a sustainable community setting. The units feature geothermal heating (and cooling in the training center only), six solar photovoltaic arrays, solar domestic hot water (DHW) systems, insulated concrete form wall systems, metal roofing, skylighting tubes, stormwater management and pollution control, ENERGY STAR® appliances, light-emitting diode (LED) and CFL lighting, as well as dual flush toilets, faucet aerators, and low-flow showerheads.
Muscogee Creek Nation, Environmental Services, Okmulgee, OK
The Muscogee Creek Nation housing authority is constructing homes with structural insulated panel (SIP) walls and roofs, which are assembled at the tribe's SIPs plant. The houses also include energy efficient windows, LED lighting, ENERGY STAR® appliances, and hot water tanks operating off a geothermal system. Additionally, the tribe is incorporating geothermal heating systems, installed by the tribe using its own geothermal rig.
###
HUD's mission is to create strong, sustainable, inclusive communities and quality affordable homes for all. HUD is working to strengthen the housing market to bolster the economy and protect consumers; meet the need for quality affordable rental homes: utilize housing as a platform for improving quality of life; build inclusive and sustainable communities free from discrimination; and transform the way HUD does business. More information about HUD and its programs is available on the Internet at www.hud.gov and espanol.hud.gov. You can also follow HUD on twitter @HUDnews, on facebook at www.facebook.com/HUD, or sign up for news alerts on HUD's News Listserv.
Enterprise is a leading provider of the development capital and expertise it takes to create decent, affordable homes and rebuild communities. For more than 30 years, Enterprise has introduced neighborhood solutions through public-private partnerships with financial institutions, governments, community organizations and others that share our vision. Enterprise has raised and invested more than $13.9 billion in equity, grants and loans to help build or preserve 300,000 affordable rental and for-sale homes to create vital communities. Visit www.EnterpriseCommunity.org to learn more about Enterprise's efforts to build communities and opportunity.