HUD No. 14-047
Brian Sullivan
(202) 708-0685
For Release
Monday
May 12, 2014
---
AFFORDABLE HOUSING DEVELOPMENTS WIN HUD SECRETARY DESIGN AWARD
Four California developments cited as national models
WASHINGTON - Four California affordable housing developments are the recipients of the 2014 HUD Secretary's Housing and Community Design Award (www.huduser.org/portal/about/housingCommDesign_2014_1.html), each recognized for excellence in residential housing design. The U.S. Department of Housing and Urban Development (HUD) and the American Institute of Architects (AIA) selected 28th Street Apartmentsin South Los Angeles; Kelly Cullen Community in San Francisco; Kings Beach Housing Now in Lake Tahoe; and Sierra Bonita Apartments in West Hollywood as national affordable housing models.
"These designs are proof that when it comes to developing affordable housing, you don't have to choose between form and function," said Donovan, himself a trained architect. "This year's recipients are shining examples of how the latest innovations in design, materials and building techniques are not just for high-end housing but can also offer lower income families exceptional homes they can actually afford."
The awards will be presented in a special ceremony during the 2014 AIA National Convention and Design Exposition in Chicago in June. The 2013 HUD Secretary's Housing and Community Design Award recipients are:
For Excellence in Affordable Housing Design - This award recognizes architecture that demonstrates overall excellence in terms of design in response to both the needs and constraints of affordable housing.

28th Street Apartments

28th Street Apartments: The28th Street Apartments in south Los Angeles consist of a restored historic YMCA dating from 1926 and a newly constructed five-story, stucco-clad building adjacent to the original building. Designed by noted African-American Architect Paul R. William, the original Spanish Colonial revival masonry building was a focus of African-American social life in the era of segregation and is listed on the National Register of Historic Places. It now offers 48 supportive housing apartments and employment training for neighborhood youth in an ethnically mixed and chronically underserved neighborhood. Supportive housing units include 23 units for residents at 30 percent of the Area Median Income (AMI), 7 units for residents at 40 percent of AMI, and 18 units for residents at 50 percent of AMI. Thirty of these 48 units are reserved for homeless or mentally ill individuals.
When the YMCA was bought in 2007, the original residential program and pool had been abandoned and entire building had fallen into disrepair. All building services and equipment needed to be replaced. The limited budget was stretched to restore the exterior of the building and adapt the interior for new uses.
The restored structure is now a LEED Certified Gold building. Solar hot water panels now cover the roof, while photovoltaic panels on the south facade provide shade and generate power, leaving the historic building free of attachments. Lightweight perforated metal screens wrap the walkway and stairs of the addition facing the historic building to contrast with the original architecture and highlight its weight and solidity. The metal screens feather at the corners to reveal views of the city.
For Creating Community Connections - This award recognizes projects that incorporate housing within other community amenities for the purpose of either revitalization or planned growth.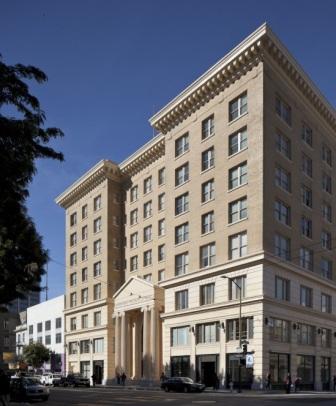 Kelly Cullen Community

Kelly Cullen Community: San Francisco's historic Central YMCA, a valued community resource, has been restored and converted to Kelly Cullen Community, a supportive housing complex serving residents and homeless in the Tenderloin area of the city. Kelly Cullen Community includes a health center, as part of an innovative approach to establishing permanent housing for people who have been chronically homeless or at risk of homelessness. The $55 million renovation of the building has created a housing community of 174 micro-units of approximately 200 square feet each while also preserving the building's sky-lit second floor lobby, full-size gym, and auditorium, as well as its offices and meeting rooms.
The new LEED Commercial Interior Gold-certified primary care and behavioral and mental health clinic occupies 11,700 square feet of former locker room and support space on the ground floor. The original basement swimming pool was converted into a multipurpose room. Residential wings and 24 new units were constructed above the historic gym.
The historic preservation tax credits, which provided partial funding for the project, required a high degree of preservation sensitivity. The small residential units preserve the original window bays with their generous proportions and high ceilings and provide the occupants with ample storage, cooking facilities, and individual bathrooms. Window repairs preserve existing materials and provide energy efficiency and comfort. The new radiant heating system, energy-efficient lighting and ventilation, and use of healthy materials contribute to the well-being of the residents and the sustainability of the building. Terrazzo stairs, tile walls, wood ceilings, and translucent planters around the new grand stairway are compatible with the historic, wood, tile, and marble finishes, which were meticulously restored.
For Community-Informed Design - This award recognizes design that supports physical communities as they rebuild social structures and relationships that may have been weakened by outmigration, disinvestment, and the isolation of inner-city areas.

Kings Beach Housing

Kings Beach Housing Now: Kings Beach Housing Nowis an affordable sustainable workforce housing project consisting of nine building on five sites in Lake Tahoe. The development provides low-income workers and families who previously lived in substandard converted motel rooms, cabins, and trailers with safe, energy-efficient places to live. The sites replace dilapidated, inefficient housing with new, LEED Certified Silver apartments that reduce negative impacts on the environment while reusing infill land and preserving Tahoe's beautiful open space. The project offers 77 apartments at five sites in Kings Beach (Brook, Chipmunk, Deer, Fox, and Trout) consisting of a mix of apartments sizes.
The Kings Beach Housing Now development team formed partnerships with community advocates and nonprofit groups to sponsor the first Housing Needs Assessment in Kings Beach. A total of 335 surveys (conducted in both English and Spanish) were collected at community events and at local social service organizations during September 2007. The results of the assessment are now available to all organizations seeking to plan new affordable housing and services for the Kings Beach community. The development team listened closely to the community in its effort to create sustainable housing and strengthen the community as a whole. During the planning and design phases, the development team held more than 30 bilingual community meetings to receive feedback on strategies and insight into the needs of the workforce and business owners.
This state-of-the-art LEED Certified Silver housing places people near jobs and amenities, drastically reducing dependence on cars in a region of heightened environment sensitivity. Additionally, an advanced biofiltration system filters 100 percent of onsite storm water, preventing sediments and pollutants from impacting the health and clarity of the world-renowned water of Lake Tahoe.
For Housing Accessibility - Alan J. Rothman Award: The purpose of this award is to recognize exemplary projects that demonstrate excellence in improving housing accessibility for people with disabilities.

Sierra Bonita Apartments

Sierra Bonita Apartments: Sierra Bonita Apartmentsis located in an economically depressed commercial area in West Hollywood comprised of small faltering businesses, bars, and massage parlors, and is adjacent to densely built older rental apartments. Both the housing and services offered at the project are part of a community-wide strategy to strengthen community cohesion and self-empowerment of residents.
Sierra Bonita Apartments is the first all-affordable mixed-use development in West Hollywood, and the first project designed and completed using the city's new Green Building Ordinance. The five-story building includes 42 one-bedroom units for very low-income people living with permanent disabilities, in accordance with the city's commitment to full inclusion of these populations in its diverse community. Community-serving nonprofit organizations occupy 3,000 square feet of street-level space. Passive solar design strategies include integrated solar panel sculptures of photovoltaic modules generating more than 55 kilowatts daily, which powers all the common areas of the building. Meanwhile, a second system of rooftop solar panels provides hot water for the entire building. ENERGY STAR® appliances are used in the apartment units and the commercial and common areas. The landscaping is designed with drought-tolerant, sustainable plant material and is maintained with a computer-controlled irrigation system.
Individuals with disabilities participated in the design and development of the project. Participants asked for outdoor spaces that provide pleasant views from their living rooms, which the project has accomplished. Among the unique features of the building are extensive individual and shared outdoor spaces with landscaping that is fragrant, flowering, and sculptural, as well as low-maintenance and drought-tolerant. Two roof decks on the fifth floor provide additional outdoor space with spectacular urban views. Although the building has air conditioning, its large windows allow cooling by ocean breeze on most days. The project demonstrates there is no need to compromise design in creating housing for economically disadvantaged, physically challenged persons.
###
HUD's mission is to create strong, sustainable, inclusive communities and quality affordable homes for all. HUD is working to strengthen the housing market to bolster the economy and protect consumers; meet the need for quality affordable rental homes: utilize housing as a platform for improving quality of life; build inclusive and sustainable communities free from discrimination; and transform the way HUD does business. More information about HUD and its programs is available on the Internet at www.hud.gov and http://espanol.hud.gov. You can also follow HUD on twitter @HUDGov, on facebook at www.facebook.com/HUD, or sign up for news alerts on HUD's Email List.