HUD No. 20-181
HUD Public Affairs
(202) 708-0685
For Release
Thursday
October 22, 2020
---
HUD SECRETARY BEN CARSON DESIGNATES NEW ENVISION CENTER IN HOUSTON, TEXAS
HOUSTON, TX - U.S. Department of Housing and Urban Development (HUD) Secretary Ben Carson announced the latest HUD EnVision Center designation, located at HUD Gulf Coast Center in Houston, Texas.
This Center partners with Adaptive Construction Solutions (ACS) to assist the local community with wrap around services in Houston and the surrounding area.
In less than a year, ACS went on to become the largest veteran apprenticeships in the State of Texas. After recognizing the impact apprenticeships provided for homeless veterans, ACS expanded their reach in 2018 to also assist former foster youth and other vulnerable populations. Today ACS is among the nation's largest workforce intermediary apprenticeship sponsor with 18 occupations in multiple industries.
"EnVision Centers were created with a simple goal in mind: to empower people to reach their greatest potential. These Centers take a holistic approach to community revitalization, going beyond brick and mortar investments and investing in what matters most - people," said HUD Secretary Ben Carson. "Adaptive Construction Solutions' employee-centric workforce development program has demonstrated success in assisting Houston's vulnerable youth and veterans. I am confident that this new designation and partnership will allow them to help many more achieve their career goals."
Over the past four years, more than 800 veterans and vulnerable youth have been placed into employment, trained, and provided industry-recognized, nationally portable certifications through ACS.
With HUD as a strategic partner, ACS will have the ability to double their apprenticeship opportunities for their target population in Houston.
In addition to partnerships with engaged employers, this work will be carefully performed with the support of the City of Houston, Department of Labor, Texas Workforce Commission and Gulf Coast Workforce Board.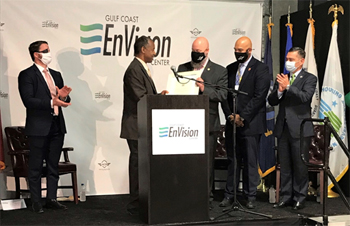 Secretary Ben Carson announcing the designation of the new HUD EnVision Center

View additional pictures via Secretary Carson's Twitter page here (https://twitter.com/SecretaryCarson).
###
HUD's mission is to create strong, sustainable, inclusive communities and quality affordable homes for all. More information about HUD and its programs is available on the Internet at www.hud.gov and https://espanol.hud.gov.
You can also connect with HUD on social media or sign up for news alerts on HUD's Email List.