HUD No. 21-094
HUD Public Affairs
(202) 708-0685
For Release
Wednesday
May 26, 2021
---
Secretary Fudge Visits Kansas City, MO to Highlight the American Jobs Plan and Housing as Infrastructure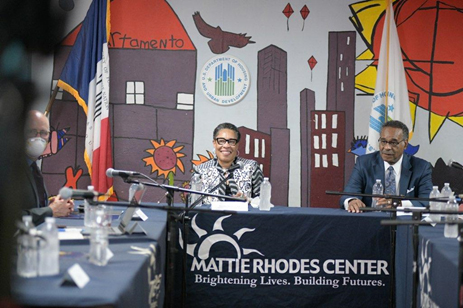 Secretary Fudge participates in a roundtable on job creation through housing at the community development organization Mattie Rhodes Center, in Kansas City, MO.
WASHINGTON - U.S. Housing and Urban Development (HUD) Secretary Marcia L. Fudge today toured Kansas City, Missouri to highlight how President Biden's American Jobs Plan will address the affordable housing crisis and revitalize our nation's housing infrastructure. Secretary Fudge was joined on the visit by Congressman Emanuel Cleaver (MO-05) and Kansas City Mayor Quinton Lucas.
"Our homes can serve as a bridge to greater opportunities and a better life," said Secretary Fudge. "The American Job Plan is a historic, once-in-a-generation investment in our nation's infrastructure-including our housing infrastructure. If we want the United States to remain the greatest nation in the world, then we must first take care of home-in the most literal sense. To pass an infrastructure plan that fails to expand affordable housing and to revitalize our communities would be akin to building a road that leads to nowhere."
During the visit, Secretary Fudge toured 18th and Vine Jazz District, where she delivered remarks about the importance of housing as infrastructure. She also visited the Mattie Rhodes Center, a community development organization working on the development of affordable, sustainable local housing. There, she participated in a roundtable on job creation through housing construction.
Ahead of Secretary Fudge's visit, HUD released a fact sheet on how the American Rescue Plan provides HUD resources to strengthen communities, expand access to affordable housing, and create jobs. The White House released a fact sheet (www.whitehouse.gov/briefing-room/statements-releases/2021/05/26/fact-sheet-the-american-jobs-plan-will-produce-preserve-and-retrofit-more-than-2-million-affordable-housing-units-and-create-good-paying-jobs/) on how the American Jobs Plan will produce, preserve, and retrofit more than 2 million affordable housing units and create good-paying jobs.
###
HUD's mission is to create strong, sustainable, inclusive communities and quality affordable homes for all.
More information about HUD and its programs is available at www.hud.gov and https://espanol.hud.gov.
You can also connect with HUD on social media and follow Secretary Fudge on Twitter and Facebook or sign up for news alerts on HUD's Email List.
HUD COVID-19 Resources and Fact Sheets