U.S. Department of Housing and Urban Development
Office of Community Planning and Development


---
CITIZEN'S SUMMARY
San Francisco's 1995 Consolidated Plan constitutes a strategic vision and community development in the city. This document summarized the plan so that citizens in the community can have a quick overview of San Francisco's housing and community development problems; the 5-year broad goals, strategies, and actions proposed to deal with those problems; and specific projects for carrying out this strategy during 1995.
Goals
Elimination of slums and blight.
Elimination of conditions that are detrimental to health, safety and public welfare, and conservation.
Expansion of the Nation's housing stock.
Expansion and improvement of the quantity and quality of community services.
Better utilization of land and other natural resources.
Reduction of the isolation of income groups within communities and geographical areas.
Restoration and preservation of properties of special value.
Alleviation of physical and economic stress.
Action Plan
The Consolidated Plan also includes an action plan constituting an application for funds under four different HUD formula programs (including reallocations from prior years) for a total of $43.5 million: Community Development Block Grant (CDBG) program, the Emergency Shelter Grants (ESG) program, the HOME Investments Partnership Program, and Housing Opportunities for Persons With AIDS (HOPWA) program. These funds, $14.5 million in income to the city from prior projects, and local funds will support activities for the 1995 program year.
Citizen Participation
Elements of the plan were developed with active citizen participation, including an active citizen advisory committee to help develop different sections of the plan. Hearings for the four major programs were conducted separately, and the complete Consolidated Plan was published for public review on November 1, 1994. A brief summary of the plan was printed in the San Francisco Examiner and copies were available for public review at branches of the public library and other locations. A public hearing on the plan was held on November 14, 1994.



---
COMMUNITY PROFILE
San Francisco's limited land supply, coupled with a relatively healthy economy and high quality of life, have made the city one of the Nation's most expensive housing markets.
In 1990 more than 25 percent of all households in San Francisco had incomes below 50 percent of the citywide median income. These households tended to be concentrated in certain areas of the city. There are 27 census tracts that qualified as Areas of Very-Low Income Concentration in 1990, located primarily in downtown, Chinatown-North Beach, south of Market and South Market, and the southeastern areas of the city. Non-Hispanic Caucasians accounted for a minority of the population in 1990 (47 percent), followed by Asian/Pacific Islanders (39 percent), Hispanics (14 percent), and non-Hispanic African-Americans (11 percent). African-Americans are concentrated primarily in the southeast quadrant of the city and in the civic center area; Hispanics are mostly in a band of census tracts running south from the civic center; and Asians are fairly well scattered throughout the city.
San Francisco is a regional employment center with more jobs than residents in the work force; however, from 1990 to 1992 it experienced a loss of 30,000 jobs.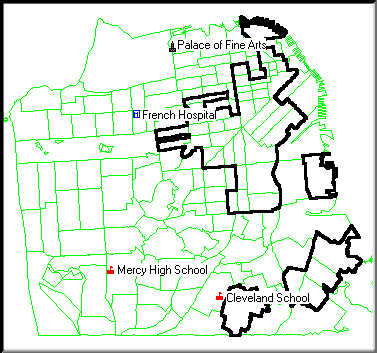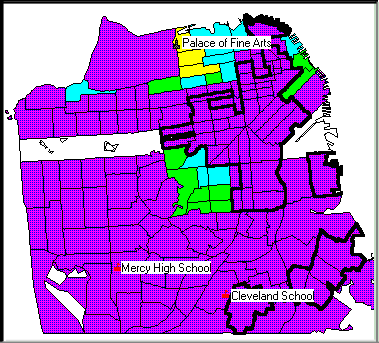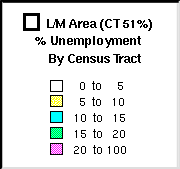 ---
HOUSING AND COMMUNITY
DEVELOPMENT NEEDS
The needs section of the plan outlines the extent of need by various groups for housing and the problems with community development that need to be addressed.

Housing Market Conditions
Only 9.3 percent of San Francisco households can afford the price of the average San Francisco single-family home. An income of $70,000 to $77,000 is needed to afford the median price of a single-family home or condominium in San Francisco.
In 1990 about 98,000 units in San Francisco (28 percent of the housing stock) had rehabilitation needs that should have been addressed. In addition, over 1,600 residential buildings containing 14,800 units were affected by the earthquake. There are about 21,000 units in 770 unreinforced masonry buildings in San Francisco, most of which are occupied by low-income households. In 1990 a total of 99,423 low- to moderate-income households had inadequate housing units in terms of cost, size, or habitability. Among the needy groups were first-time homebuyers who could not meet downpayment requirements; elderly households; immigrant households; and persons with developmental disabilities. There is also a need for a continuum of housing with varying degrees of supportive services for 6,900 to 8,280 persons with HIV/AIDS.
Homeless Needs
In fiscal year 1993 there were a total of 181,055 "turnaways" from the city's emergency shelters. Experts believe that the number of homeless has increased since a 1989 study that reported 6,800 to 8,000 homeless.
As of September 1993, the city's homeless shelters had a capacity of 1,349, plus some temporary space available for winter months.
Community Development Needs
There is a need for a wide variety of neighborhood facilities, such as child care centers and senior activity centers; improvements to public spaces; human services to support physical development activities; and economic development activities.
Public and Assisted Housing Needs
Among the assisted housing available are 6,700 units of conventional public housing, housing subsidies for 5,419 families and homeless individuals through vouchers and certificates, and 9,904 units in assisted housing developments that had either federally-insured mortgages (accompanied by affordability requirements) or Federal subsidies.
Other Issues
Seventy-eight percent of the city's housing stock--or 237,999 units--contains lead-based paint.
About 12 percent of San Franciscans--or about 97,000 persons--are or will be disabled by 1995. In private housing, it is estimated that fewer than 2 percent of San Francisco's rental stock is minimally accessible.


---
HOUSING AND COMMUNITY DEVELOPMENT
STRATEGIC PLAN
The strategic plan lays out a long-term strategy to deal with housing and community development needs.
Housing and Community Development Resources
The city faces an enormous challenge in marshalling the resources necessary to implement its plan. The Consolidated Plan contains an inventory of Federal, State, and local programs available to carry out the plan.
Priority Housing and Homeless Objectives
First Priority:
Lowest and extremely low-income households that are homeless or at imminent risk of becoming homeless. Among the 5-year goals in this category is to create 5,100 transitional beds for homeless persons, including 1,800 beds for mentally disabled persons and 2,100 beds for alcohol- or drug-addicted persons. In addition, 2,560 newly constructed or acquired units are planned for extremely low-income individuals and 2,750 are planned for extremely low-income families.
Very low- and other low-income households that include persons with disabling physical and/or psychological characteristics or other conditions that result in a need for special housing. The 5-year goal is 26,640 units of new, permanent supportive housing for low- and very low-income persons. The largest categories among these special groups are supportive housing for frail elderly persons (7,000) and for persons with AIDS (7,590).
Very low-income large households who are not at imminent risk of becoming homeless or experiencing a disabling condition. The 5-year priority goals are to construct 2,430 new units of rental housing for extremely low-income and very low-/low-income large families and to preserve existing affordable rental housing for 2,500 large and small families.
Second Priority:
Very low-income and other low-income individual and small-family renter households who are not at imminent risk of becoming homeless or experiencing a disabling condition. The 5-year goal for very-low-income small families, single persons, and artists seeking living/working quarters is 7,050 units.
Third Priority:
Very low- and other low- and moderate-income households seeking homeownership for the first time and existing very low- and low-income homeowners. The 5-year goal is 690 units for first-time homebuyers and preserving low-income existing homeownership.
Nonhousing Community Development Objectives
Improve neighborhood environment and facilities used for community services and activities. This includes a public services program to help support physical development activities, a neighborhood facilities improvement program, a program to provide matching funds to assist existing neighborhood centers to correct serious code violations, reduction of lead hazards for children, and a disability upgrade program.
Service strategies for increasing economic development. This will be carried out by a $7,000,000 economic development loan fund that includes Section 108 loan-guaranteed funds. A nonprofit corporate business venture program will help establish nonprofit organizations to create job opportunities. Another effort, the Self-Employment and Enterprise Development (SEED) program, is designed to provide low- and moderate-income persons seeking nontraditional employment with the technical skills necessary to start their own small businesses.
Improve the community's planning and management. Improve the community's capacity to plan and manage programs and activities and increase redevelopment activity funded with "program income" generated through loans and sales.
Other Considerations
Institutional structure: Part of the task of implementing the strategic plan is organizing properly so that the plan can be properly executed. The plan lays out the roles of the mayor's coordinating agencies, regular line agencies, nonprofit entities, and the private sector in affordable housing production.

Public housing strategies: The plan lays out the goals for improving and maintaining the large inventory of the San Francisco Housing Authority.

Lead-based paint: The plan includes a number of priority actions to reduce lead-based paint hazards and prevent childhood lead poisoning.

Fair housing: Among the actions proposed in fair housing are to promote affirmative marketing and to monitor compliance with fair housing policies in government-subsidized or -operated units and private-sector housing.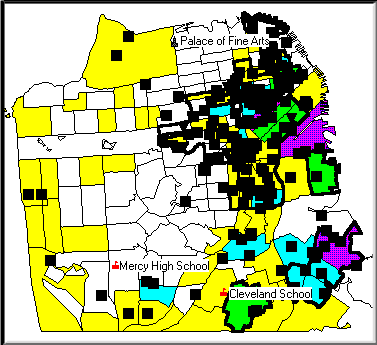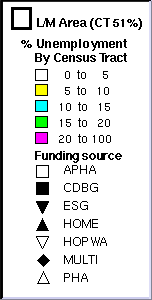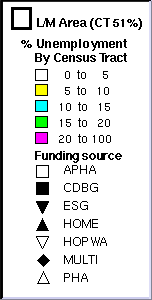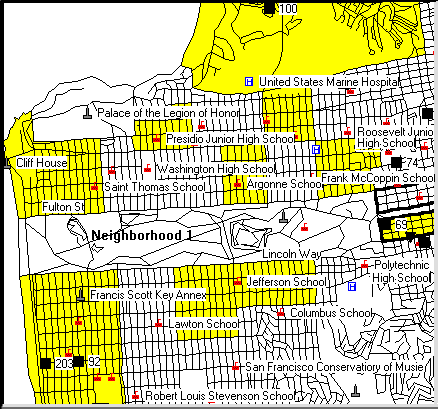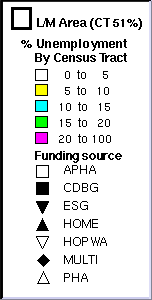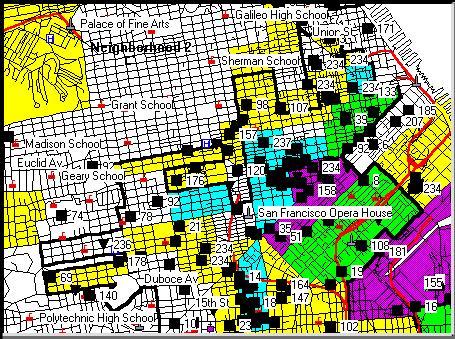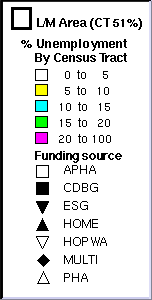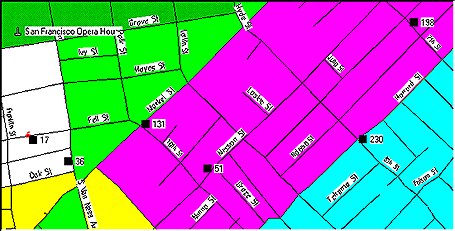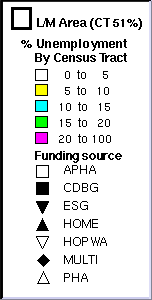 ---
ONE-YEAR ACTION PLAN
The action plan lays out the proposed uses of the $43 million from the four formula grant programs, funds recaptured through "program income," and funds from local sources. Some 280 projects are listed in the plan, of which 240 can be identified on the map, showing the geographic impact of the activities.
Overview of Proposed Activities
A large majority of projects are concentrated in the most needy neighborhoods--those census tracts in which 51 percent or more residents are low- or moderate-income, mostly in the northeast and southeast quadrants of the city. Also, most of the proposed projects are fairly evenly distributed among areas of concentration of different ethnic groups.

Some of the 280 projects include:
$63,000 to the Red Cross for one-time rental assistance to households facing eviction ( 85 households).
$30,000 to the Asian Law Caucus for legal services for limited-English-speaking battered women (serving 130 people).
$73,161 to the Audrey L. Smith Development Center for child care and related services for low-income families (serving 26 youths).
$25,000 to the Bayview Hunter Point Network for Elders for outreach and case management services for frail elders (serving 150 elderly).
$118,192 for food distribution to low-income women, children, and seniors (serving 800 persons).
$102,842 for workplace literacy and training for limited-English-speaking persons (serving 90 persons).
$48,416 to the Central City Hospitality House for employment services for homeless youths (serving 400 youths).
Action Plan for Housing
The plan contains a special action plan for housing in 1995. The plan shows the national and local sources of funds for these housing activities, the categories of housing activities to be undertaken, and a listing of number of units.
Sources of Funding for Housing
A substantial part of the $43 million in new Federal funds for fiscal year 1995 for San Francisco is spent for nonhousing activities or has already been committed to continue existing activities started in previous years. $55 million in uncommitted funds is available for housing activities. Most of the uncommitted funds ($37 million) have come from local sources, such as the hotel tax ($12.3 million) and the seismic safety bonds ($15 million).
Use of Funds
The Consolidated Plan details the proposed uses of $55 million, including activities for which funds have already been reserved and funds not yet committed.
One of the largest programs is building supportive housing, for which $12.5 million is committed. This funding comes from the HOME program, CDBG program, the proceeds from tax increment financing, and hotel tax funds. Another important program is the Senior Rental Housing Construction Program, designed for senior citizens. Most of the $10 million in funding for this program comes from the hotel tax.
Approximately 1,605 new units of affordable housing will be funded by 1995 program year funds. In addition, a large number of units that were started in previous years are also supported.

---
To comment on San Francisco's Consolidated Plan, please contact Bernard Gunther at 415-554-8757.