U.S. Department of Housing and Urban Development
Office of Community Planning and Development



---
CITIZEN'S SUMMARY
Baltimore is an older, industrial city with a wide variety of housing and community development needs. Its most basic problem is that so many of its residents are poor. The Consolidated Plan describes Baltimore's strategies and resources for attacking its problems. One important resource is its designation as an Empowerment Zone, which will provide funding for the next 5 years to increase economic opportunities and improve residents' quality of life.


To help meet the many challenges it confronts, the City of Baltimore has in place 20 major public plans, including a 5-year Capital Improvement Program (with $272 million earmarked for housing and community and economic development), neighborhood and area plans, and an overall economic development plan. Most of these had formal public participation and review.

Action Plan
This Consolidated Plan includes application for HOME, CDBG, ESG, and HOPWA funding for a total of $41,724,000 for 285 activities.
Citizen Participation
Over a period of 10 months, city and State agencies, nonprofit social service and housing providers, private sector businesses, community organizations, and individual citizens participated in development of the Consolidated Plan. The initial public hearing to inform the public about the purpose of the plan was held June 24, 1994, with notices in two major papers and 740 letters sent to organizations and agencies. A draft version of the plan was released May 1, and a hearing was held on May 23. Revisions were made in response to comments and the plan was completed in June 1995.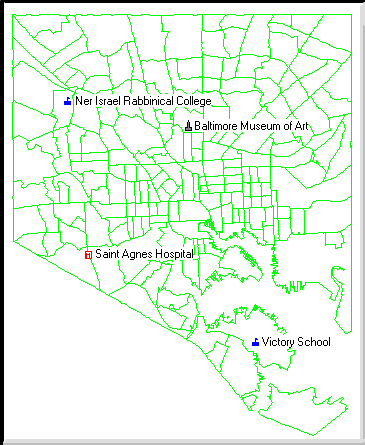 ---
COMMUNITY PROFILE
The population of Baltimore has been declining steadily for several decades. In 1994 its population was estimated at 703,057, down from 786,775 in 1980. Most of the loss occurred because a large number of households left the city. African-Americans comprise 59 percent of the city's population, whites make up 39 percent, and Hispanic and Asians are each about 1 percent. While half of Baltimore's white households are moderate income, only one-third of African-American households are.

A 36-percent decrease in manufacturing jobs in Baltimore between 1980 and 1990 has been mostly offset by other job growth. However, most of the new jobs are in the low-paying service sector, often at minimum wage. The city's unemployment rate has increased to 10.7 percent in 1993. Median household income of the city's 275,977 households is $24,045, which is only two-thirds of the median income for the region.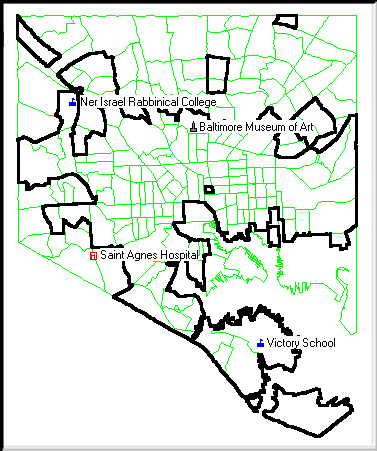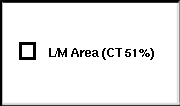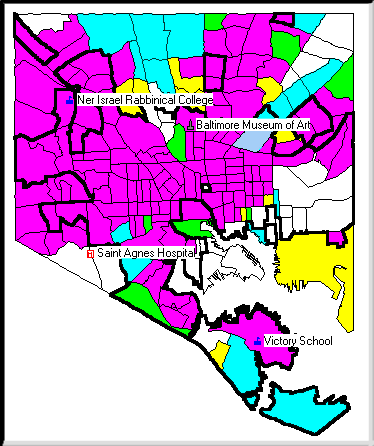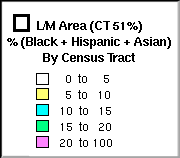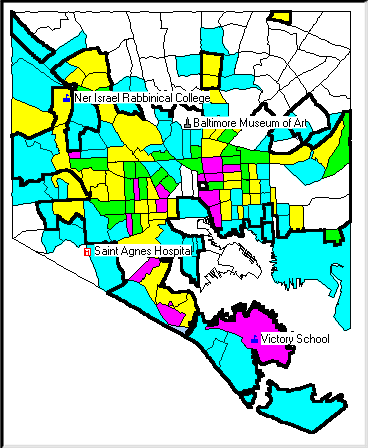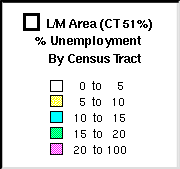 ---
HOUSING AND COMMUNITY
DEVELOPMENT NEEDS
Housing Market Conditions
Owner-occupied units comprise 49 percent of the occupied housing in the city, with row houses being the dominant structural type, followed by single-family detached houses, duplexes, and condominiums. Ten percent of the owner-occupied units are substandard. Less than 1 percent of owner-occupied housing (1,235 units) is not feasible for rehabilitation because cost would exceed the cost of a new unit. Median sales price for owner-occupied properties has stayed in the mid-$50,000 range for several years. Sales at the lower end of the owner-occupied price range present new ownership opportunities for some lower income households, although these older units may need major repair.
Renter-occupied units, also mainly row houses, make up 51 percent of the housing stock. The rental market is fluid and has a 7.5 percent vacancy rate. Median monthly rent in the city is $321, compared to the regional median of $490 per month. Two out of five units rent for less than $300 per month. However, rents have been rising faster than incomes in recent years. Thirty-two percent of the rental stock is substandard. Rehabilitation costs are such that lower-end rental units either will not be rehabilitated or will no longer be affordable to low-income people. Overcrowding in housing is not a serious problem, except for large renter families. Some 54,225 households, mostly lower income renters, live in substandard housing.
Affordable Housing Needs
One-third of all households and two-thirds of those with very-low incomes need housing assistance. While 20 percent of homeowners have a housing affordability problem, 46 percent of renters do. More than half of large families whose incomes are less than 95 percent of median have a moderate or severe cost burden. Among low-income households, almost half of African-American and Hispanic renters and one-fourth of African-American and Hispanic owners are cost burdened.
Public and Assisted Housing Needs
There are 18,052 public housing units administered by the Housing Authority of Baltimore City (HABC). Households in eight of the twelve poorest census tracts in the city are predominantly public housing residents. Public housing residents are 92 percent nonwhite and 64 percent female. Of the 48 public housing developments, almost half have been open for 25 years or more. Many require extensive repair. The Comprehensive Grant Program has targeted replacement of electric sub-meters, drainage systems and utilities work, and furnace equipment. Needed repairs to plumbing, air conditioners, and facades have also been identified. A priority project is to replace elevators where daily repairs now are needed. Because 7.2 percent of occupiable units are now vacant, prompt reduction of vacancies is a top HABC priority. As of April 1995, 27,135 applications were on file for public and/or Section 8 housing.
A plan has been approved to relocate families from high-rise public housing buildings and to reduce density of projects by demolition and renovation. Slightly over 1,600 units will be rebuilt on the high-rise sites and 1,100 units will be located on scattered sites. These will be townhouse or low-rise buildings.
There are 8,887 Section 8 housing units in the city, 75 percent of them one- or two-bedroom units. Another 6,919 assisted housing units have been provided by other Federal programs. None of these are expected to be lost from the assisted housing inventory.
Homeless Needs
The inventory of facilities for the homeless includes 908 year-round beds, 633 transitional beds and 295 additional winter beds. A 1994 survey of Baltimore's homeless people found them to be mostly low-skilled, with their employment prospects at an all-time low. At the same time, the risk of homelessness has increased as cash assistance benefit levels have been decreased. Three-fourths of those homeless are single, three-fourths are male, and 86 percent are African-Americans. On a typical night between April and November, 1,100 persons sleep in emergency shelters, 500 reside in transitional housing, and the remaining 300 to 1,200 homeless live on the streets. Risk of homelessness has increased because most of lowest-cost residential hotels and 13 percent of rooming house units have gone out of business and many lower-cost rental units were lost in the 1980s. The greatest deficiencies in homeless services are in the system's inability to accommodate persons with special needs like alcoholism, mental illness, and domestic violence.
Barriers to Affordable Housing
The high degree of poverty is the major impediment to producing sufficient affordable housing. Almost one-third of the city's households have incomes less than $15,000, and only 17 percent have incomes over $50,000. Requirements such as zoning and code regulations have been examined. Some are important for health, safety, and density reduction reasons. Historic preservation requirements also can be a cost burden, as can lead paint problems. Settlement costs and property taxes in Baltimore are among the highest in the Nation, forming a barrier to low-income housing and to attracting middle-class homeowners. For persons with mental disabilities, community acceptance has been an obstacle. A major gap is the lack of easily accessible capital, particularly for long-term construction financing. Some fees have been waived for low-income projects. An area with potential for reducing costs is use of modular housing.
Fair Housing
The city will complete its analysis of impediments to fair housing choice by February 1996.
Other Special Needs
Persons with special needs are more likely than others to need both housing and support services. The estimated number of households in need of supportive housing is detailed in the plan.
Support services for the elderly are provided by more than 100 government and nonprofit agencies. The Senior Assisted Housing Program of the Public Housing Authority provides supportive services to frail and disabled elderly residents in 14 senior high-rise buildings to prevent unnecessary institutionalization. HABC also operated five medical day care centers. Other services are also available. Requests for services are expected to increase because of the aging of the population.
A continuum of services to over 5,000 city residents with chronic mental illness is provided by Baltimore Mental Health Systems. Rental assistance is being provided to 724 disabled households. A State program, Project Home, places 242 chronically mentally ill and permanently disabled persons in private housing which meets standards of care. Some other services are also available.
Persons with AIDS need a changing mix of housing and services as their diseases progress. When these services are not readily available outside of Baltimore, persons with AIDS come to Baltimore City to access services as their conditions worsen. Several resources for permanent housing exist. HOPWA funds are used for a variety of housing arrangements. Two hospices are available.
Lead-Based Paint
It is estimated that 234,000 units, 52 percent of them occupied by low-income households, contain lead-based paints that could cause serious health problems and are expensive to remove. Baltimore landlords in 1995 collectively face law suits seeking over a billion dollars in damages for lead paint poisoning. In the past several years, lead-paint hazards lawsuits have caused some landlords to board up their units, especially lower-value buildings. These boarded-up units both decrease the housing supply and have destabilizing effects on their neighborhoods. A 1994 State law offers some relief in the form of lead paint damage limits, but it has not yet taken effect.
Other Issues
Abandoned property is now a critical problem for the city because the rate of abandonment has increased. The 8,659 abandoned units are havens for drug-dealing and other criminal activity, attract rats and trash, pose fire hazards, and lower property values. Some of these units should be identified for demolition.
Community Development Needs
Economic development to counteract the loss of manufacturing jobs continues as an important need in the City of Baltimore. Redevelopment for tourist, business, and biotechnology centers has had some success, but needs to continue. Public facilities and services need improvement. Literacy and job training are needed, as are recreational facilities.
Coordination
The City of Baltimore has many different agencies to address its housing and community development needs. In the case of services for persons with AIDS, this has produced a patchwork of services with gaps and overlaps that need to be coordinated. The City works with the State of Maryland, other public agencies, nonprofit groups, and private businesses in order to address needs.


---
HOUSING AND COMMUNITY
DEVELOPMENT STRATEGIC PLAN
Housing
The basic assumption of the 5-year strategy is that the root cause of Baltimore's housing problems is lack of affordability. In order to lower the cost of housing and improve the purchasing ability of city residents, Baltimore's strategy will be to use every tool available. Opportunities will be dispersed throughout the city, but emphasis will vary in different areas. In the inner city, the majority of housing units provided will be rental, although maintaining and increasing ownership will be encouraged where appropriate. In the outer city, the emphasis will be on working to maintain and strengthen homeownership. Strategic demolition of vacant properties will be carried out with neighborhood consultation, but rehabilitation will be the primary strategy to combat the problem of abandoned houses. CDBG and HOME funds will be used for this work.
Small renter families, elderly households, and owner households with incomes below 50 percent of median-income with cost burden and physical housing defects have been identified for highest priority assistance. The City will assist tenant households in becoming first-time homebuyers, including use of housing counseling. For the homeless, the City will move from a strategy of emergency response to a greater emphasis on affordable, permanent housing opportunities. It will also seek to better coordinate resources and services. For special needs populations, linkage of affordable housing with appropriate services will be emphasized.
Strategies for revitalizing Baltimore public housing include improving specific management functions and the redevelopment of sites to lower project density. Action will be taken to integrate lead-based paint hazard-reduction into housing policies and programs. The City will be active in implementing the new State Lead Paint Poisoning Prevention Program.
Nonhousing Community Development
CDBG funds will be used to leverage funds to underwrite renovations to structures used by nonprofit groups. Infrastructure improvements like sidewalks and sewers will be budgeted in the Capital Improvement Program. Nonhousing services will emphasize support for literacy training and recreational activities.
Economic development continues to be an important emphasis for the city. It will build on past accomplishments, emphasizing public/private partnerships. Elements of the strategy are:
Market opportunity analysis
Industrial assessment and area plans
Commercial market analysis
Neighborhood business stimulation
Assistance to promote value-added business expansion
Businesses attraction, retention, and expansion
Development of the local biotechnology industry
Capitalization on Enterprise Zone designation
Encouragement of minority business development
Baltimore will continue to utilize a multifaceted antipoverty strategy. Part of the strategy depends on increased coordination between housing programs and other services for low-income people. Existing city agencies were consolidated to facilitate coordination at the program level. Some of the services affected include crime prevention, education/literacy/libraries, health services, employment, recreation, and housing programs.
The Strategic Plan to Empower Baltimore, which guides the City's federally designated Empowerment Zone, is based on a vision for change that includes:
The mobilization of Zone residents and communities to achieve lasting change
Transformation of Zone areas into inviting neighborhoods
Creation of a safe, drug-free environment
Majority homeownership and decent affordable housing for all
An integrated community service and resource system
Employment opportunities for all Zone residents
Education and training which fully qualify area youth for jobs
Enhanced opportunities for Zone residents to become self-sufficient and upwardly mobile
The institutional structure that will carry out the Empowerment Zone plan includes public institutions, nonprofit organizations, private industry, academic institutions, and foundations.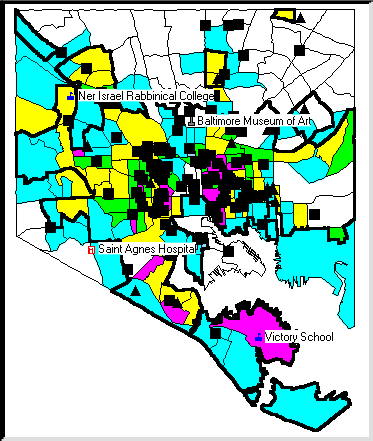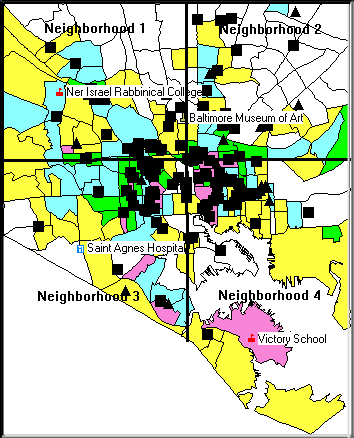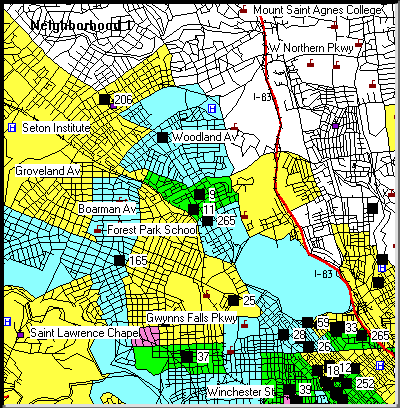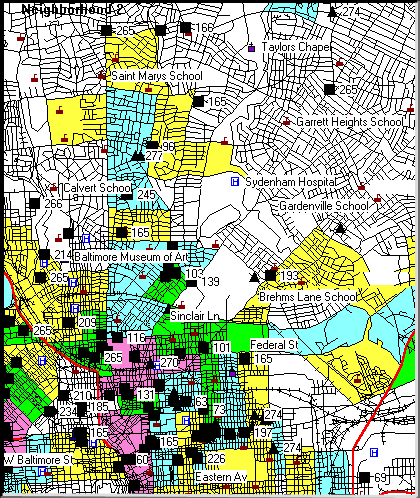 ---
ONE-YEAR ACTION PLAN
A total of 285 activities are reflected in the Consolidated Plan. Most of the projects are in low- and moderate-income areas and minority concentration areas, especially in the inner city. Activities undertaken will include both physical improvements and social activities. They will support implementation of Empowerment Zone activities (rehabilitation of housing, employment training, or public improvements), aid the work of neighborhood organizations, and fund housing rehabilitation/new construction. Almost 1,000 rental and ownership housing units will be completed. Recreational, employment, and tutoring programs will benefit 129,000 youth. Health, crime awareness, literacy, sanitation, housing, and other services will assist 52,000 persons. Emergency shelters and transitional and supportive housing will be increased for homeless and special needs populations.
Monitoring teams will review federally funded projects on an ongoing basis. The city's Department of Housing and Community Development will track program income and fair housing/equal opportunities compliance.

---
To comment on Baltimore's Consolidated Plan, please contact Steve Jones at 410-396-4051.
---
Have all the information you need when important resource allocation decisions are being made by ordering the cutting edge Consolidated Planning Software System package.