ACCION Texas is helping small business owners with the financial assistance they need to establish or grow their businesses. In addition to lending money, ACCION has established for people in the colonias along the Texas-Mexico border a Border Lending and Savings Initiative and an IDA Match Savings Program that enables clients to put money into an interest-bearing bank account. At the end of two years, the client receives the total savings - doubled by a dollar-for-dollar match - plus interest.
The IDA program was launched in 2002 with a $250,000 grant from HUD. Partnerships were also set up with local branches of International Bancshares Corp., and Wells Fargo banks to maintain the savings accounts. The program, designed exclusively for clients in the colonias, offers them an opportunity - perhaps the first one they ever had - to build assets and equity in their businesses. ACCION Texas has seen many clients start and expand their businesses, and has helped them take the next step toward financial independence through short-term savings.
ACCION Texas has now completed recruiting for the IDA program; here are three success stories.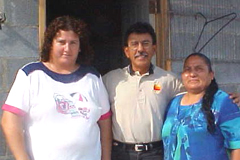 Gavina Barrera (left) is joined by a neighbor and Richard Lopez, HUD Program Specialist, San Antonio
Gavina Barrera
Gavina Barrera lives in a colonia near Rio Grande City. When she first came to ACCION Texas in February 2002, she had been in business for 12 years. Gavina buys and sells everything from clothing to charcoal. She received a $200 loan to purchase merchandise from Mexico that she can buy at a low price and sell at a profit. In October 2002, she was approved for a $600 loan from ACCION Texas. She used that money to build a storeroom for her inventory.
Gavina has one of the longest tenures in the IDA program. She signed up for the match savings plan in March 2002. She has been saving a modest amount of money, which in a year or so she hopes to couple with more savings to buy more merchandise.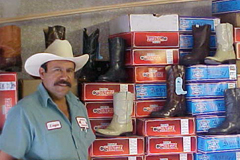 Exiquio Salazar's goal is to save enough money to open a local shop in McAllen, Texas.
Exiquio Salazar
Exiquio Salazar, who has been in business for six years, sells cowboy boots, work boots and children's boots in McAllen, and belts, belt buckles, hats and cowboy shirts at an indoor flea market in Corpus Christi. Exiquio first heard about ACCION Texas from the Small Business Development Center in Edinburg. He used a loan to buy new belts and belt buckles that he previously could not afford. "I am still in business because of ACCION Texas," says Exiquio.
An IDA participant since February 2002, Exiquio is taking full advantage of the savings program and has saved nearly $2,000. His goal is to save enough money to open a local shop in McAllen.

Sara Rangel and her husband. Sara has been operating Los Fresnos Tuxedo Rentals for about eight years
Sara Rangel
Sara Rangel has been operating Los Fresnos Tuxedo Rentals for about eight years. As the only business of its kind in her area, her shop specializes in tux rentals, alterations and dry cleaning. In 2000, Sara found herself needing to pay property taxes on her storefront, so she went to her local SBA for guidance. While at SBA, Sara learned about ACCION Texas and was granted a $5,000 loan. She maintained a perfect repayment record on that loan, and received a second ACCION loan to purchase inventory.
Sara became one of the first participants in the IDA program. As a successful businesswoman, Sara recognizes the benefits both programs have given her. Because of ACCION Texas, she has been able to take out a bank loan and has been saving about $400 every month so she can eventually make improvements to her storefront.