When applying for Section 8 rental assistance five years ago, Elaine Matthews remembers talking about her goals and her dreams. She wanted a job and a car, and dreamed of owning a home. But the prospects were bleak for the single, unemployed mother of two living in Monroe, Louisiana, a city with a poverty rate of 25 percent. Reaching her goals and her dream was not going to be easy.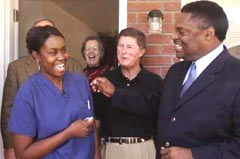 Monroe Mayor James Mayo presents Elaine Matthews the keys to her new home as Hal Hinchliffe of Progressive Bank and Marieanne Hereford of the Monroe Housing Authority watch.


Life improved for Elaine when she was approved for Section 8 assistance...and she followed-up on that by enrolling in the Monroe Housing Authority's Family Self-Sufficiency Program.
The FSS program is set-up to help Section 8 residents become independent and self-supporting by providing access to childcare, transportation, educational opportunities, and job training.
Within two years, she reached her first goal of finding a job shortly after earning her certified nursing assistance license.
And with a full-time job she was soon able to reach her second goal and buy a car.
Elaine chose to remain in the program, and even increased the amount of money she put into a home-buying escrow account as her income grew.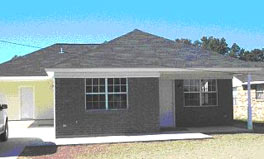 Elaine Matthews' new home in Monroe
And last November, thanks to the opportunities she's had and choices she's made, Elaine fulfilled her dream when she received the keys to the new three-bedroom, two-bath home she had just bought. She had saved about $9,000 as a down payment on her new home, and the FSS program, a non-profit arm of the Monroe Housing Authority, provided additional down payment and closing cost assistance using HUD funds that help low-to-moderate income families.
As Elaine can attest, goals and dreams can come true if you set them high but reachable and go for them one step at a time.