As a child, Kyle lived in an apartment in a rural Iowa nursing home where his father was the administrator and his mother was the social worker.
Now, as an applied gerontology graduate student at the University of North Texas, Kyle researches ways to benefit seniors.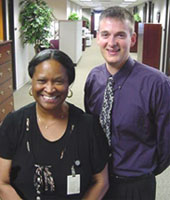 Kyle, shown here with Joella Venters from the multifamily program, says though it has been a challenge to balance his volunteer activities with his full-time job as hall director at a local university, he regards the experience as priceless
It was after reading an article on the Department's Texas website about the efforts of Service Coordinators to keep senior residents healthy and mobile that Kyle saw an opportunity to act on his passion for working with seniors.
He contacted the office and offered to volunteer one day a week. E. Ross Burton, the Fort Worth Multifamily Hub director, and Robert Hicks, operations director, agreed to use Kyle's experience and education to analyze the effectiveness of the region's Service Coordinators. And this past February, Kyle completed his detailed analysis on Service Coordinator performance and suggestions on how to improve the program.