For nearly eight months Dillard Williams had no place to call home. Sometimes he would find shelter for the night, often he wouldn't. When Dillard lived on the streets his schizophrenia kept getting worse because he had no source for treatment or medication. As a result, he was becoming more and more withdrawn.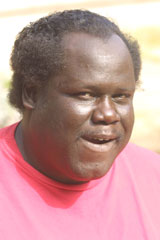 Dillard now enjoys living on his own. He says that a number of residents look to him for encouragement


But Dillard's luck began to change when he met a volunteer from a Tulsa-area homeless outreach program who connected him with Safe Haven, the Mental Health Association's assisted living facility. Safe Haven, funded through HUD's Continuum of Care program, provides shelter at Tulsa's downtown YMCA to the homeless when they first leave the streets. Moving into Safe Haven marked Dillard's first real step on the path to recovery.
At Safe Haven, Dillard was able to get back into a treatment regimen as well as a support group. A counselor put him in touch with the Social Security Administration so he could begin receiving disability benefits. He also participated in the apartment's work program. Dillard was assigned maintenance tasks around the facility, which helped him develop a sense of responsibility and self-esteem.
After a couple of years, Dillard wanted to live more independently. He moved into Treepoint, a long-term supportive living apartment complex owned by the Association. Most Treepoint residents, including Dillard, use HUD's Section 8 Home Choice Vouchers. Dillard has his own apartment and is in charge of his own shopping and cooking. It's been three years and Dillard continues to improve and enjoys living more on his own.
Dillard earned a place as one of Treepoint's most treasured residents. His determination and success at regaining control over his illness set an example for others who look to him for advice and support. And he's always willing to help, whether it's setting up for an event, lending a hand to someone who is moving or just being there to talk.
The Association's housing programs were recently awarded first place in the "Home Sweet Home" category of the 2003 Eli Lily Reintegration awards. And from September 29 through October 1, the Association, along with HUD and a number of national leadership partners, will host the 2004 National Zarrow Mental Health Symposium - A Place to Call Home: Exploring Innovative Approaches to Housing for People with Mental Illness.