The grind of completing income tax returns has recently gotten easier for residents at the O'Connor Square Apartments in Louisville, thanks to the New Directions Housing Corp. and its partners, which earlier this year launched an IRS tax return preparation center that serves low-income individuals and families, especially those eligible for the Earned Income Tax Credit.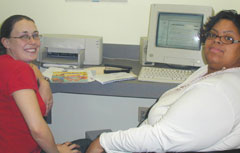 Kelly (right) works with Tracey on her tax return
EITC credits reduce the tax burden on low-income families and boost take-home pay to help offset higher childcare and transportation costs as the families move towards self-sufficiency.
The Louisville Asset Building Coalition, a partnership of local agencies that work together to promote family self-sufficiency, sponsors the site. The LABC, through the IRS VITA program, provides free tax preparation assistance to Louisville families with annual incomes less than $35,000 and individuals with less than $15,000 in annual income. Volunteers assist in the preparation of simple federal and Kentucky tax forms and then file the returns electronically to speed the receipt of refunds.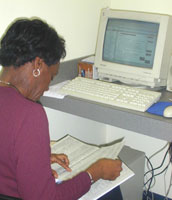 Toni, a volunteer, researches a tax issue for a client
Volunteers, who must successfully complete an IRS training program and have basic computer skills before they qualified, do not have to be tax professionals or have any prior experience in preparing tax forms. The breadth of volunteers' backgrounds is varied: from CPAs to attorneys, from bankers to businessmen and women, and from college students to retirees to homemakers.
According to the General Accounting Office, 25 percent of the EITC dollars owed to working families goes unclaimed each year. For Metro Louisville, that means as many as 16,000 residents may be missing out on as much as $26 million in EITC refunds. New Directions will target 100 low-income households living in and around HUD-assisted communities for these services in the first year of operation.
In addition to the tax assistance it offers, the Center is home to an after-school program, a summer day camp and hosts family enrichment programs at special times throughout the year.