"Otvorite vrata u." In Serbo-Croatian it means "open the door to fair housing." And for immigrants newly-arrived in America from the country once called Yugoslavia or, for that matter, any other part of the world - opening the door and keeping it open are crucial elements in providing full and equal access to the American Dream.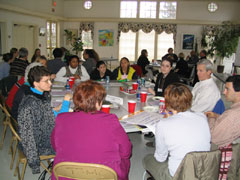 The Piedmont Housing Alliance last year conducted more than 30 fair housing seminars, like the one shown here.
Click to enlarge
That's why the Piedmont Housing Alliance, a HUD Fair Housing Initiatives Program grantee serving the Charlottesville area, has used HUD funds to translate its Fair Housing Resource Guide and its Fair Housing fact sheets into the six foreign languages identified by the Charlottesville International Rescue Committee as most common in the area: Serbo-Croatian, Spanish, French, Arabic, Mandarin Chinese and Dari, a language spoken by many Afghanis.
"The world continues to beat a path to America," said Karen Reifenberger, who coordinates the Alliances' fair housing programs, "and we want to make sure that those newly-arrived to our shores are fully aware of both the rights and obligations they have as residents of our nation. For all the progress we've made in combating discrimination, it still exists with immigrants among its most frequent victims. Information is power and this translated information arms the newly-arrived with the power to fight the discrimination they may face."
But information is just the starting point for the Alliance's efforts. In the last year alone, it also has conducted more than 30 fair housing seminars in central Virginia attended by more than 700 people. Its outreach efforts have resulted in some 50 complaints and, Reifenberger notes, has provided the Alliance and eight other organization's preparing the area's first ever Analysis of Impediments to Fair Housing Choice with information both up-to-date and across-the-board on the who's, what's when's and where's of housing discrimination in the area. The Charlottesville City Council and Thomas Jefferson Planning District Council are expected to act on the analysis this spring.
"Using funds from HUD and energy from organizations throughout central Virginia," adds Reifenberger, "we're building a very effective and responsive fair housing infrastructure. Even now, discrimination may be a fact of life, but hopefully we're putting in place a set of programs that - one day soon - will make it a distant memory in our community."