Maria de Los Angeles Moya, a South Texas native, and her husband and three children, longed to have a home of their own, even when they lived on a ranch that her father's boss owned. But when the owner sold the ranch, her husband lost his job and they no longer were qualified to buy a home.

Shown from right to left are Elizardo Lozano, a maintenance man at the apartments, and Gretchen Parra, from the Department's San Antonio Multifamily Program Center

They briefly considered living with her husband's mother, which although would have been convenient, would have denied the family much-needed privacy…a place where her children could have their own rooms, laugh as loud as they wanted and have enough space to run and play.
Her husband finally convinced Maria they should apply at Northstar Apartments, a newly opened HUD-insured multi-family complex. Located in Raymondville, a town known for its plentiful agricultural crops, a 300-day growing season and for its proximity to the U.S. - Mexican border, staff from the San Antonio Multifamily Program Center recently attended a ribbon cutting ceremony at the opening of the apartments.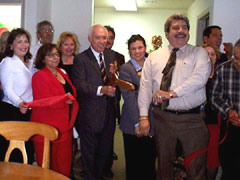 Congressman Solomon Ortiz, center, helps community leaders and Northstar officials cut ribbon during the recent grand opening celebration

After Mr. Moya found job a job with a local concrete company, the family was eligible to move into a three-bedroom unit. They are especially pleased with all the amenities, such an electric stove, dishwasher, washer and dryer connections, frost-free refrigerator, 24-hour emergency maintenance and an in-ground pool. The units also have central air conditioning, which helps their six-year old asthmatic son to breath. And when he isn't sick, he is happy being outside and playing basketball on the project's basketball court where he has already made friends.
The Moyas are so satisfied they already plan to renew their lease as year's end so they may continue to raise their family in the same environment.
Attending the dedication ceremonies were U.S. Representative Solomon Ortiz, who said the project defies the long-standing "history of neglect" that South Texas has faced over the years. According to Congressman Ortiz, Northstar Apartments is a "far stretch from the labor camps" that housed families who were once confined to dwellings where the "restrooms were on the outside".