The Highland Park Mill in Rock Hill, a historic textile mill built in 1894, served the South Carolina mill-village for years as its employment hub. Times changed, however, and decades ago the mill went out of business and became an unused sore spot in the City.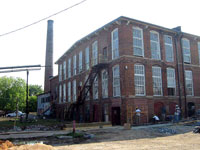 Highland Park Mill Apartments is expected to be ready for occupancy in June 2005

Thanks to a unique partnership between government agencies, non-profit organizations and private entities, the property is now being transformed from an abandoned albatross into a beautifully restored treasure that will be home for 116 low- and moderate-income senior households.
The Department's Columbia Field Office gave the project a boost when in February it insured a $6.5 million dollar Section 221(d)4 rehabilitation loan.

The interior of the old mill, darkened for decades with boarded up windows, will once again capture the sunlight with the installation of new glass panes in the original wood window frames


Prior to that, the York County Council on Aging, a non-profit service provider to seniors, bought the old mill in December 2001 using a $365,000 Community Development Block Grant that HUD had awarded to the City. The City also kicked in an additional $285,000.
The City then recruited Landmark Asset Services, a private development firm specializing in adaptive reuse of historic buildings, to implement a revitalization plan. The team soon grew to include Rock Hill's Public Housing Authority, which provided the project with a tax-exempt bond resolution and 84 project-based Section 8 Vouchers. The Rock Hill PHA is also the management agent for the property.
With tax-exempt bond financing, the development qualified for Low-Income Housing Tax Credits, as well as Federal Historic Tax Credits, provided through the state's Housing Finance and Development Authority and its Department of Archives and History. These two credits generated more than $4.7 million dollars in equity.
| | |
| --- | --- |
| When completed, the grounds of the development will be landscaped with new sod, trees and shrubbery and will also include a walking trail located around the perimeter | The area that once housed sewing machines is now being partitioned for living units |
Additionally, the state's Department of Health and Environmental Control assisted in the environmental clean up required for the former industrial facility.
Rehabilitation is currently underway and the project is expected to be ready for occupancy in June 2005. Each unit will be equipped with an oven/range combination, frost-free refrigerator with icemaker, garbage disposal and washer/dryer connections.