All HQ employees are invited to join Secretary Jackson and Ryan Streeter, director of the Department's Center for Faith-Based and Community Initiatives, at 1:00 PM today as they welcome gospel legend Shirley Caesar to HUD Headquarters. An ordained pastor, Shirley has touched millions of lives through her songs and her faith-based outreach.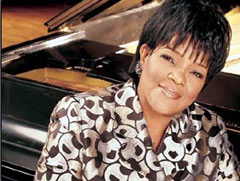 Shirley Caesar, renown gospel singer and faith-based advocate.

Shirley understands the powerful role faith plays in renewing families and communities. She established the Shirley Caesar Outreach Ministries as her way of helping the less fortunate in her hometown of Durham, North Carolina.
Please join with us today in the Cafeteria as Shirley shares her story with you and as we celebrate the Department's role in President Bush's Faith-Based and Community Initiative.
The event will broadcast via satellite and webcast for those employees who are unable to attend and for those in our regional and field offices.
Attendees should be in the Cafeteria in their seats by 12:50 PM.