Osvaldo Ornelas is typical of many young Americans. Ozzy, as he is known, had a hard time paying off his student loan and the job he was hoping to land after graduation didn't materialize. As a result, increased living expenses and a low-paying job resulted in late payments and a damaged credit rating.
Soon, Ozzy got a better job and he began paying off some of his debt.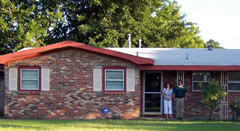 $60,000 was Ozzy's estimated rent over 10 years

He also took a hard look at his expenses, and he didn't like what he saw: $500 a month in rent has cost him about $60,000 during the last 10 years. It was then that Ozzy decided it was time to start saving money to buy a home.
Despite his past credit issues, Ozzy and Maira, his wife, thought they might be able to qualify for a mortgage loan. They began their search on the Internet and soon found a lender willing to approve his loan application.
The couple was offered an adjustable-rate loan with an initial rate of 9 percent that could increase during the next 30 years. But the lender didn't tell him there were different types of loans, nor was he told that he had the option of paying off more of his past due accounts and qualifying for a fixed-rate loan.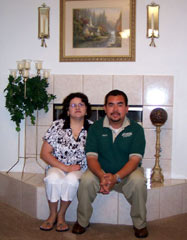 Ozzy is typical of many young Americans buying their first home, but his dream took a nasty turn when he encountered an unethical lender.

After hearing about Lubbock Housing Finance Corporation's budget and credit counseling services, Ozzy made an appointment with a housing specialist who discussed with him how he could work out his credit issues.
After some effort on his part, Ozzy has now qualified for a fixed-rate FHA loan with a rate of 5.875 percent. Not only will Ozzy save more than $46,000 during the next 30 years, he also saved on closing costs. The housing specialist also showed him how the Internet lender was going to charge him more than $2,400 in additional fees.
Ozzy has joined the ranks of a growing number of Americans who are proud new homeowners. And though he has mortgage payments, Ozzy doesn't mind. "At least I am paying for something that is mine and that I can pass down to my family," he said.