"Only in America could we have been provided the opportunity to own a home. God bless America!"

Duong family receives the key to their new home from Sponsor organization, Providence Health Care
"No one can ever know how much it means to come to America with nothing and work in partnership with Habitat to build our home."
"With this home, my family now has a safe, secure place to live."
These are just some of the comments made by the six families who achieved the dream of homeownership during Habitat for Humanity-Spokane's 2004 Blitz Build. During the two-week period, June 12-25, 2004, Habitat for Humanity and a myriad of volunteers joined with six selected families to construct their homes.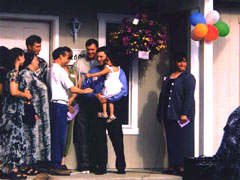 Griehannyy Family - Keys presented by Loan Officer from First Horizon Home Loan

The six families, from all walks of life and numerous counties, came together to complete the housing counseling and 500 hours of sweat equity required by the Habitat program, and now will enjoy being neighbors in their new homes. These six homes are located in the Chief Garry Park neighborhood of Spokane, WA.
The six families are:
The Sigitove family. Refugees from Kazakhstan, these parents of five fled from religious and economic turmoil.


The Kirovin family. From Stavropol, Russia, the moved to the United States in search of religious freedom. Like the Sigitove's, they have five children.


The Uwimana family. The Uwimana's moved from Rwanda eight years ago, after the husband/father was murdered. The family survived for over a year and a half in a refugee camp before relocating to the Inland Northwest.


The Duong family. From Vietnam, the Duong family has overcome many obstacles to provide a better life for their two small boys. They look forward to living in a two-bedroom house, instead of the one-room apartment they are leaving behind.


The Bullchild family is a single mother with a teenage daughter.


The Grichanniyy family came from Ukraine to be closer to their family. They have four children.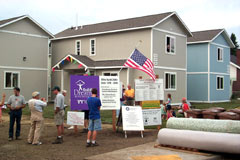 3,900 volunteers helped construct six homes over a period of 13 days (6/12-6/25/04)
Sponsors of the six Habitat-Blitz Build homes were: Providence Health Care, Spokane Public School (District 81) Employees, Valley Churches Ecumenical Group, Friends and Family of Gloria Hope Cooper, Sterling Savings Bank, First Horizon Home Loan, and the Spokane community. The Blitz Build construction consisted of 2 shifts per day, 150 volunteers per shift for 13 days or a total of 3,900 workers.
In the 15+-year history of Habitat-Spokane, over 300 children from 130 families have moved into the decent affordable shelter of a Habitat for Humanity home. Even with the Blitz Build efforts, they are seeing an increased interest from families needing adequate, affordable housing. Habitat for Humanity-Spokane is building up the community one home and one family at a time.