"You have to do good, before you can do well," said Linda Hardway, Director of HUD's Little Rock Multifamily Program Center. Ms. Hardway was on hand to introduce a new initiative, Caught Doing Good! and to recognize Carl Schultz for the good that he has done in the life of one special young man.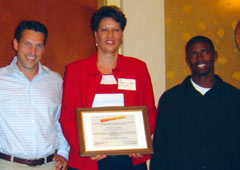 Carl Shultz (left) joins Linda Hardway and Gregory Simmons at a special recognition ceremony in Little Rock.
Thirteen-year-old Gregory Simmons and his mother moved into Shorter College Gardens, a 100%-subsidized project in North Little Rock. The youngster was forced to cope with a rough environment and a mother whose drug abuse made her unable to give him the care he needed.
The property manager began to take an interest in Gregory and soon hired him to do lawn work after school. Carl Schultz of United Properties Management soon stepped in, and began to mentor Gregory, introducing him to life on a farm and horseback riding.
At school, he began to excel in track, and with the help of his mentor who had his own family to support, Gregory was able to participate in many track meets, picking up a bronze medal in Orlando, Florida.
Today, Gregory lives independently in a single-family home. He has his sights set now on entering college in 2005.
Young men like Gregory Simmons prove that difficult circumstances are no barrier to a productive, independent life, especially when a mentor like Carl Schultz offers his support and encouragement.