Lehigh Acres, FL - On Friday, August 27, under a bright Florida sun, and just two weeks after landfall of Hurricane Charley, Governor Jeb Bush and HUD Secretary Alphonso Jackson presented the keys of a HUD-owned property to Robert and Valerie Hamilton and their four children, a family whose apartment in the Punta Gorda Housing Authority was severely damaged by the storm.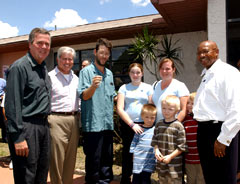 Robert and Valerie Hamilton receive the keys to a HUD home from Secretary Jackson

Citing housing as Florida's number one priority during the recovery period, Governor Bush announced a number of measures that the State of Florida will be taking, including $5 million in disaster relief from the Florida Housing Finance Corporation targeted at helping the elderly and farm workers in Charlotte, Hardee and DeSoto Counties. Beginning September 16th, the Florida Housing Finance Corporation will make $15 million available through its Home program for disaster relief. The State will also provide $4.5 million from its community development block grant program.
Following the Governor's comments, Secretary Jackson announced HUD's total commitment to work with the State of Florida, FEMA and other agencies and organizations to help communities and individuals affected by Hurricane Charley. He also announced that HUD has taken additional measures, including: the granting of a 90-day moratorium on foreclosures and forbearance on foreclosures of Federal Housing Administration-insured homes; and working with FEMA to identify vacant multi-family housing units, public housing units and HUD-owned homes that can be used as temporary housing for those forced from their homes due to storm damage.
Finally, with the Arcadia, Lake Wales, and Punta Gorda Housing Authorities sustaining significant losses, the Secretary announced that HUD is making available $40 million to rebuild public housing.