In FY2000, HUD developed a Quality Management Review Program to assess the efficiency and effectiveness of various field office activities. Each year, exemplary performances are recognized by the Department. Over the next month, each of these exemplary practices will be recognized in the Daily Focus Message.
The Partnership Paradigm for
HUD's Colonias and Other Underserved Communities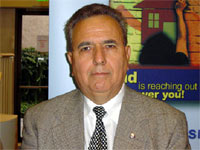 Edward Flores, Operations Specialist, Santa Ana, California.
This exemplary practice was the basis for successful efforts to outreach to migrant farm workers and residents of Colonias in Southern California. This practice is a model of how federal agencies working with universities can assist in the provision of integrated services to improve the living conditions of the neediest citizens. Using a Memorandum of Understanding (MOU), HUD, the U. S. Department of Agriculture and the University of California Riverside, pledged to assist disadvantaged individuals to become self sufficient through economic development initiatives and improved housing conditions. This practice can be replicated using the guidelines developed by the Office of General Counsel and the Office of Field Policy and Management.