Haida, Tlingit, Tsimshean and Athabaskan dancers performed stories for an appreciative Alaska HUD office staff during American Indian/Alaska Native Heritage Month celebration.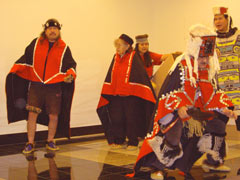 Wearing the symbols of their clans, Naa Luudisk Gwaii Yatx'i dancers celebrate a range of Alaska Native heritages

Young and old alike dance to the drums and songs of their ancestors
Elders, mothers, fathers and a young beginner - the 4-year-old daughter of one of the dancers-drummed, danced and sang in several Native languages at a lunchtime performance Tuesday, Nov. 23, in the Alaska HUD offices. The Native cultural dance group, Naa Luudisk Gwaii Yatx'i, which translates to "children of the islands who continue to learn," wore traditional clan symbols on their clothing and headdresses. Many of the symbols were depicted in intricate designs of white buttons on red and black blankets. With a chuckle, one elder said the buttons were initially provided by missionaries to hold their robes together. Instead, they chose to use the buttons to decorate their clothing.
Following their performance, members of the group joined HUD staff in a potluck of traditional foods - including raw and cooked muktuk (whale), goose soup, dried walrus meat in seal oil and berries. Other traditional foods, at least traditional for Thanksgiving, included turkey, ham, and potatoes and gravy. After the feast, HUD staff and Naa Luudisk Gwaii Yatx'i members played a HUD-office produced game of Native American/Alaska Native "Jeopardy."
In addition to the performance, the luncheon and the game, the Alaska HUD office also established an Alaska Native cultural library and watched a movie about an Eskimo father teaching his son to live off the land.