The National League of Cities hosted the 81st Congress of Cities and Exposition on November 30 through December 4, 2004 in Indianapolis, IN. The theme "America's Cities and Towns Racing Toward a Better Future" highlighted the league's mission to strengthen and promote cities as centers of opportunity, leadership, and governance. More than 3,000 officials attended the event held at the Indiana Convention Center and RCA Dome in downtown Indianapolis.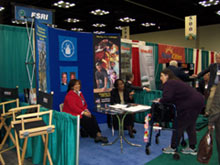 Left Eleanor Granger-White, Senior CPD Rep and right Jeanne Meggs, CPD Program Manager



Mara Register, CD Director, in Valdosta, GA, Vice Mayor Charles Allen, of Newport News, VA, John Hall, Indianapolis HUD Field Office Director, John Dorgan, Senior CPD Rep, Robert Poffenberger, CPD Director
The nation's elected leaders came from all across the United States to attend the exposition because it provided them many opportunities to learn what colleagues in other cities were doing, what products and services were available to their cities; and the opportunity to share ideas and lessons. Indianapolis Mayor Bart Peterson was elected second vice-president, and Clarksburg, WV Councilmember James Hunt was elected first vice-president of the NLC at the Congress. Congress host mayor Peterson sponsored tours of the Indianapolis Homeownership Zone, Fall Creek Place. Feedback was extremely positive for the zone that received a HUD grant that initiated the project.
HUD Indianapolis Field Office staff participated in this year's event by staffing an exhibit booth and Robert Poffenberger, CPD Director, participated as a panel member for the workshop, "Innovative Solutions to Affordable Housing".