On a recent Friday, about 25 people from various provider agencies in the community went along for a ride through a continuum of services. Sponsored by HOPE for the Homeless, the regional continuum of care for northwest Louisiana, the tour of five programs provided much insight into the caring and chaos that exists within the programs and the people that they serve. These tours will continue quarterly to inform workers and volunteers about housing and service delivery and the needs that remain unfilled.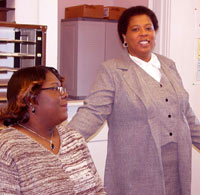 Peggy O'Neill, Hope House day shelter coordinator, welcomes the group while a volunteer minds the desk.


The first stop on the ride was Shreveport-Bossier Community Renewal's Allendale Friendship House, a neighborhood ministry to the indigent that provides homeless prevention programs and education for adults and children.
A curve along the road ended at Hope House, the day shelter for street homeless that provides showers, mailboxes and access to voice mail as well as a clothes closet and daytime snacks. It also provides warmth from the cold and a listening ear to those ready to come in from the weather.
The next stop took the group to the Shreveport-Bossier Rescue Mission, where they heard about shelter and transitional housing that includes 96 beds for men, medical care and counseling, and employment skills training. Tour participants were also told of plans to add 176 beds in downtown Shreveport for single women and single and two-parent families.

A volunteer mans the busy front desk at the Shreveport-Bossier Rescue Mission.


Another turn along the way led the group to the 211 Call for Help Center, which provides information and referral to social services throughout the nine-parish region.
The final stop was Mercy Center, a permanent supportive housing facility for persons with HIV/AIDS. One of the oldest such places in the country, this 14-bed facility provides housing and caring support through counseling and case management.
Participants learned many valuable lessons. As stated by social workers Michael Shernoff and Edith Springer: "In this work, we are sometimes fortunate enough to accompany a client on his or her chosen path toward growth, serenity, improved functioning, and enhanced human relationships. At other times, we are simply accompanying them through the chaos and pain of their existence. In either case, our lives can become permanently enriched as a result of being along for the ride."