Christmas came two days early for Jamvis Armour and his family as they walked through the door of a new house given to them by a grateful community. "We are not only welcoming you home, but we are welcoming you to your new home," said Rick Jensen of the Vets In Need Committee in Pensacola, Florida.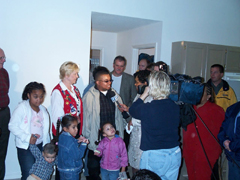 In the kitchen of his new home, Army Specialist Jamvis Armour expresses his surprise and appreciation during a quick interview with Sue Straughn of WEAR-TV. Standing in front of him, his children Elijah, Alexis, and Gabriel, take in all the excitement.
Army Specialist Armour was deployed in Iraq on May 28, 2003, when a rocket-propelled grenade struck the fuel truck he was driving, critically wounding him and changing his life forever. After undergoing 18 months of rehab and therapy in San Antonio, Texas, he returned to a hero's welcome in his hometown of Pensacola on November 4, 2004. It was a joyous homecoming, except the Armours had no real home to come to. Hurricane Ivan had wiped out many options . . . until Escambia County Veterans Roundtable jumped to action.
They formed a new subcommittee, Global War on Terrorism Vets in Need, to assist severely injured soldiers and service members returning home. With help from U. S. Representative Jeff Miller, the Escambia County Commission purchased a foreclosed property from the U. S. Department of Housing and Urban Development for $1 and donated it to the Veterans Roundtable. Donations from local agencies, businesses, and private individuals helped to provide labor and materials for minor repairs, landscaping, appliances,
and home furnishings.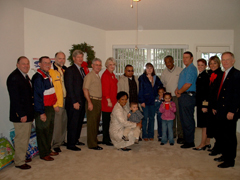 Filling the living room of their brand new home, the Armour family are surrounded by some of those who collaborated to turn this formerly vacant HUD Home into their own home. Standing left to right: Kris Tande, Vann Goodloe, Dave Hoxeng, Rick Jensen, David Barraclough, Barb Turner, Jamvis Armour, Kierstin Armour, Ezzra Merritt, Terry Sanders, Alisa Hodges, Susan Neiman, Michael Ferguson. In front (kneeling) Sue Straughn holding Elijah; Alexis and Gabriel are standing next to them.
When the 25-year-old veteran was presented a set of keys to the four-bedroom, 2-bath home on December 23, he was at a loss for words. He had no idea of the elaborate plans to give his family a home of their own. "It's real nice," he said softly. "It will be a very merry Christmas."
Jamvis, his wife Kierstin, and their three children, Alexis, 5, Gabrielle, 4, and Elijah, almost 2, had been living in temporary quarters--a one-bedroom hotel-style suite on a local Naval Station. Needless to say, it didn't take the children long to stake out their own new bedrooms. Kierstin admired the open, spacious rooms and the nice big kitchen, among the things she had dearly missed.
"It feels good to know people out there want to take care of vets and their family members," said Armour. "It's a blessing, and we are grateful and happy to have a place to call home."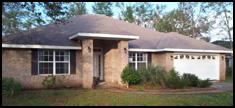 The Armour's new home