The Housing Authority of the County of Clallam (HACC) on Washington's Olympic Peninsula began preparing for the Section 8 Housing Choice Voucher Homeownership Program in early 2002. Aware that the program would soon become a reality, HACC began preparing participants as part of their overall HOME (Housing Opportunities Made Easier) program. The housing authority had run a successful Family Self-Sufficiency program for over eight years and co-sponsored an Individual Development Account program. In addition, HACC had training for new homebuyers in place.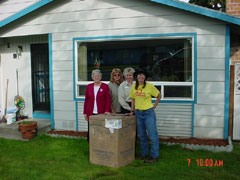 Homeowner Tracy (far right) joins Margaret Maxwell of North Olympic Regional Housing Network and representatives from Wells Fargo in front of her home purchased using a Section 8 Housing Choice Voucher administered by the Housing Authority of Clallam County, Washington.
Their first homeowner was Tracy, a disabled single mother, who had been on Section 8 for three years. Tracy completed the required Financial Literacy, Homebuyer Education, and Home Maintenance classes. She wanted to buy a home and was very clear about where she and her daughter, April, would live, who their neighbors would be, and which elementary school April would attend. Tracy eventually purchased the home she was renting through the Section 8 housing choice voucher program.
When HUD launched the Housing Choice Voucher Homeownership Program, HACC sought a bank willing to provide the mortgages. Lori Taylor, who was with Washington Mutual at the time, worked with HACC in cooperation with the Washington State Housing Finance Commission to utilize their "Home Choice" down-payment assistance of $3,000, while the Federal Home Loan Bank matched Tracy's savings of $1,600 with $5,000.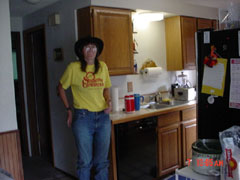 Tracy in her new home
To date, the HACC has closed on nine homes and four more homes being built in their self-help program are scheduled to close this April. Executive Director Pam Tietz, Special Programs Staff Melinda Szatlocky, and the staff at the HACC have helped make homeownership a reality for many low-income residents in Clallam County, Washington.