The staff of the Memphis Field Office celebrated throughout the month with varied activities, including crossword puzzles, quizzes and much, much more. They had the opportunity to pull from their memory banks facts about the accomplishments and noteworthy occasions of many renowned African-Americans. Michael Craven, Public Housing Revitalization Specialist in the Public Housing Hub, won the Black History 101 Quiz and Janet Estey, Project Manager in Multifamily Housing, won the Black History Crossword Puzzle contest.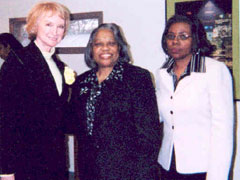 From left to right: Leander, Memphis City Councilwoman Barbara Swearengen Holt, and Vera Cheers of HUD's Recovery and Prevention Corps

Some of the staff took advantage of the celebration by visiting the south side development of downtown Memphis, a venue for art galleries. Tour guide Robert Bain of JoySmith Studio walked them through the works of African-American artists and displays of ancestral artifacts. The art, from Africa, Asia, South America and throughout the world, ranged from traditional to contemporary. They were equally impressed by a tour of European style galleries where fine abstracts and figurative artwork in diverse style and medium were exhibited.
One of the most thought-provoking events was a brown bag lunch day. Staff gathered in the break room to eat and watch a movie based on Ernest J. Gaines's novel,
"A Lesson Before Dying" starring Cecily Tyson. Gaines's story is about the way in which people insist on declaring the value of their lives in a time and place in which those lives count for nothing. It is about the ways in which the imprisoned may find freedom even in the moment of their death; it addresses the basic predicament of what it is to be a human being, a creature striving for dignity in a universe that often denies it.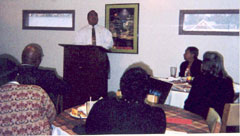 Public Housing's Division Director Arnold Peoples in mid-song

The grand finale occurred at the locally-owned Four Way Restaurant in the Soulsville revitalization area of Memphis. The restaurant was established in 1946 and has served many of Memphis' "Kings," including Dr. Martin Luther King, Jr., B.B. King and Elvis Presley, King of Rock & Roll, as well as musicians and dignitaries from around the country. The menu for the day was fried and baked chicken or catfish and an array of southern vegetables. A highlight of the day was Vera Cheers, Public Housing Revitalization Specialist in Public Housing's Recovery and Prevention Center, portraying Sojourner Truth at an 1851 Women's Rights Convention in Akron, Ohio, reading from "Ain't I A Woman?"
The guest speaker was Memphis City Councilwoman Barbara Swearengen Holt who skillfully threaded the National Black History Month theme, "The Niagara Movement: Black Protest Reborn, 1905-2005," into today's movement. She asked the question, "What happens to water that is not moving?" She stated it becomes stale and stagnant. She in turn cautioned us not to become stagnant with the movement but to keep it moving. Public Housing's Division Director Arnold Peoples closed the program with a beautiful song.
This year's celebration was a great success and many talented staff put great thought and effort into the events and daily messages.