Recently, Methodist Mission Home, whose mission is "giving God's children a faith, a family, and a future," held a Grand Opening ceremony in honor of their new Oxford Trace Apartments. The Oxford Trace Apartments, which meet the need for affordable housing for people with disabilities, are a HUD Section 811 project with twelve units, a recreation room, and a washeteria where it will only cost $3.00 a month to do laundry.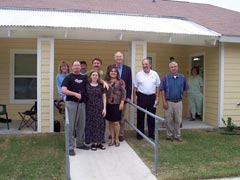 The Grand Opening of the Oxford Trace Apartments
As representatives who made the Oxford Trace Apartments possible gathered together in San Antonio to dedicate this new housing community, a great sense of pride and joy filled the air. HUD's Debra Loya, who saw this project from its inception, described the successful project "like being in a Decathlon" where "hurdle after hurdle" had to be crossed. Regardless of how "tight" the Sponsors were in making ends meet, they "sought the expertise to get through the hurdles" and they were triumphant.
Others who acknowledged the significance of Oxford Trace Apartments included the San Antonio Chamber of Commerce, who expressed their commitment, or the commitment of its 2200 members, to "stand beside" Methodist Mission Home. As an individual whose parents operated a children's home, a representative from the Hispanic Chamber of Commerce expressed how he understood the hard work involved in having this project come to fruition. The excitement he the Chamber's 1500 members was also expressed during the Grand Opening.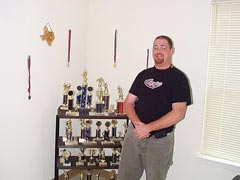 Oxford Trace resident, Darrell Tindall, pictured in his new home
Darrell Tindall, a resident of Oxford Trace Apartments, was especially appreciative of his new home because it offers him independence, a quality of life that was not an issue until a few years ago. Darrell, who is now 22 years old, is a former award-winning athlete and honor student. Unfortunately however, he suffered head injuries in a car accident that left him with physical and mental disabilities.
In spite of the challenges Darrell now faces, he remains enthusiastic and determined. In his own words, Darrell is pleased to call Oxford Trace his home because from his front yard, he can see the deer, and yet, his home is still close to the medical area where he receives treatment for his brain injury and diabetes. In addition, Darrell's front yard comes equipped with a Bar-B-Que pit where he can cook for his friends.
Although Darrell receives enough Social Security to live comfortably at Oxford Trace, he is looking for a job where he can preferably work with children. After graduating from a training program offered by the Methodist Mission Home that taught vocational and life learning skills, Darrell received his certification from San Antonio Community College to work with children. He is now working on an Associates degree in Child Development.
"I love kids," Darrell said, "because they don't see my disability." Rather than spending his time worrying about how he will meet a high monthly rental payment and paying bills, he will now be able to focus on his studies and reaching his goals. With his tenacity, Darrell will undoubtedly find a job doing what he loves best because, as he puts it, "I try at everything and I am good at everything I do".
In witnessing the accomplishments individuals like Darrell have made, it is evident that HUD has surpassed its goals. Not only is HUD assisting such nonprofit organizations by offering grants and rental assistance, HUD is also providing a lifestyle, independence, and a future.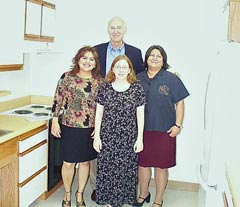 Elizabeth Arteaga (left), Maureen Spiwak (center), Debra Loya, Chief Legal Counsel (right), Spruce Keen
Others in attendance during this special Grand Opening included Oxford Trace residents, Mr. Edward De La Garza, the property Asset Manager; Spruce Keen, the HUD Multifamily Production Appraiser; Elizabeth Arteaga, HUD Project Manager in the San Antonio Program Center; Debra Loya, the Chief Legal Counsel, San Antonio Office; the Oxford Trace Board of Trustees, Methodist Mission Home Board of Trustees and staff; David A. North, President/ CEO of Volunteers of America and Property Manager for Oxford Trace; representatives from the San Antonio Chamber of Commerce, and representatives from the Hispanic Chamber of Commerce.