Shreveport Field Office employees celebrated Black History Month in a big way this year. While staff enjoyed a southern style homemade fried fish dinner, they heard two prominent speakers talk about the struggles and triumphs they had experienced as Black Americans.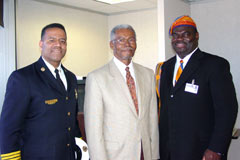 Chief Kelvin Cochran, Roy Lester, and Dock Voorhies, Chief of Social Services at the VA Medical Center, participated in the Black History Month celebration.


Roy Lester, who is now an icon in the real estate business in Northwest Louisiana, told of the difficulties he faced as one of the first black realtors in the area. Although he had a degree in management and was a licensed realtor, he worked hard to compete with less qualified agents. Despite the obstacles he encountered both in the private sector and government, Mr. Lester continued to work hard and build his business. Today the company he built, Metro Property Management, manages a portfolio of properties in six states.
The first Black fire chief of Shreveport, Kelvin Cochran, was the keynote speaker at this celebration. Chief Cochran focused on how hardships can be turned into positives, given the right attitude, determination, faith, and hard work. He told of losing his father at an early age and being one of six children growing up in a shotgun house in one of Shreveport's poorest neighborhoods. At the age of 5, while watching a group of all white firemen battle a house fire in his neighborhood, his dream of becoming a fireman was born. This seemed impossible at the time, yet he pursued his dream, got a college degree, and became a Shreveport firefighter. Persevering, he continued his education and earned his masters degree. In 1999, his dreams were far exceeded when he was named Fire Chief of the City of Shreveport.
Both Mr. Lester and Chief Cochran used the hardships of their past to help shape a successful future. What inspiring messages for us all!