Miss Fronnie Grant wanted to help her friend and neighbor, Miss Myrtle Brown, get home repair assistance. Miss Fronnie began making calls to the City of Shreveport's housing unit. After referrals to various housing maintenance programs such as Paint Your Heart Out and the city's emergency rehab program, it was determined that Miss Brown's property would need an assessment to determine the appropriate program.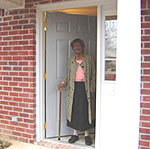 Miss Myrtle Brown greets well wishers from the front door of her new home.
When city inspectors arrived at Miss Brown's home, it was immediately evident that much more extensive work was needed than either of the maintenance programs could provide. The structure was unsafe and far too dilapidated to repair. They also realized that Good Samaritan, Miss Fronnie, was living in a house that was in a similar state of disrepair.
Aware of the availability of city block grant reconstruction funding for deserving, qualified individuals, the inspectors recommended both women for the city's Neighborhood Recovery Project. This program, funded by HUD HOME funds, provides monies to community housing development organizations (CHDOs) that are engaged in affordable housing development.

The mayor's executive assistant, Liz Swaine, listens to Miss Fronnie tell the story of how she became a new homeowner.
Community Support Programs, a local non-profit and CHDO with expertise in affordable housing development, was selected to build new homes for the elderly neighbors. According to Miss Fronnie, the day she got the news that she was eligible for a new home, "the phone went one way, and I went the other! I just can't stop thanking God for this blessing!"
The two women saw their dreams come true recently when they received the keys to their new homes on Ellison Street. Made possible through a strong partnership between the City of Shreveport's Neighborhood Recovery Project and Community Support Programs, 86-year-old Myrtle Brown and her friend Miss Fronnie Grant, will now live across the street from each other in their own homes. "The whole situation is just a blessing," says Miss Fronnie, whose own good-heartedness and generosity are how the entire project began. The Good Neighbor who became the Good Samaritan was twice blest!