As part of the Baltimore Field Office of HUD's 2005 Black History Month Celebration, staff from the Baltimore Office talked to young students at the George Washington Elementary School about their work at HUD and the need for kids to stay in school and aspire to go to college and develop rewarding careers. In addition to the onsite visit to the school located at 800 Scott Street, in Baltimore, MD 5th graders also participated in an essay contest for prizes and a chance to attend the final Black History Month luncheon and award ceremony.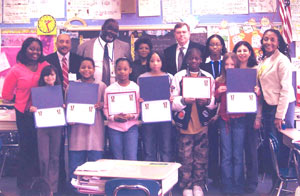 Smiling students who placed 1st, 2nd or 3rd in the "I Have A Dream" essay contest sponsored by the Baltimore Field Office of HUD for George Washington Elementary School. James S. Kelly, Field Office Director (center, rear) presented the photos.
On February 7, 2005, HUD staff interacted with students by sharing personal experiences of their career development and by encouraging students to identify, express, and work toward their future career and educational goals. The students asked engaging questions about the presenters' work at HUD and their higher educational experiences. Students found it most fascinating that some HUD staff participating in this activity were either current or former residents of the community. First Lady Barbara Bush visited this school the day after HUD Day at George Washington Elementary.
In addition to the above interaction, 5th grade students participated in an essay contest. The theme of the contest was "I Have a Dream." Students were required to write an essay outlining their higher education and career goals. Entries included goals of becoming veterinarians, schoolteachers and even the President of the United States. A panel of HUD staff reviewed the essays and selected 1st, 2nd and 3rd place winners from each of the two 5th grade classes.
James Kelly, Field Office Director, and other HUD staff, presented awards to all participants. The 1st, 2nd, and 3rd place winners were given framed certificates, school supplies and books. Essay Winners included: J'Qui Audena and Trashawn Mackey (1st place), Omamisha Portee and Terence Green (2nd place) and Chyenne Marquez and Breann Lashley (3rd place.)
Many of the George Washington Elementary students are residents of two nearby HOPE VI Developments, The Terraces and Heritage Crossing. HUD employees participating in this activity enjoyed being able to meet and work with recipients of our communities. Black History Month Co-Coordinators were William Tamburrino and Russell De Souza while activity coordinators were Unabyrd Wadhams and Ebony McKinney. Speakers were Vonzell Cummings, Howard Sims, Ingrid Brown, Ethel Locks, Gregory Curtis and Marcia Brown. Essay Judges included Yvette Jackson, Tracye Barringtine, Aimee Darrow, Arthur Elder and Candace Simms.