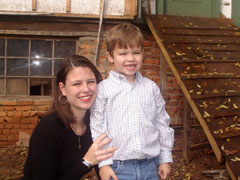 Brandi Walker and son Charlie, the first homebuyers under the CAAR Fund.
How do nurses, police officers and teachers afford homebuying in a market that, according to the head of a local REALTORS association, "is hotter than the volcano chicken" at a local Thai restaurant?
Look to Charlottesville, Virginia for one answer. "Affordable housing," in central Virginia, says Charlottesville Area Association of REALTORS executive director Dave Phillips, "is a lot like the weather. Everyone talks about it, but no one does anything about it." Until, he adds, now.
That's because earlier this year the Association joined hands with the Piedmont Housing Alliance, a local non-profit, to create a special revolving, self-sustaining trust fund to "aid key members of our workforce" like firefighters, teachers, police officers and nurses to be able to afford "to live in the communities where they work." The fund has already received more than $180,000 in pledges of financial support from local corporations and employers committed to building "stronger communities where key members of the workforce can live and work."
Essentially, explains Phillips, the CAAR Work Force Housing Fund will provide eligible purchasers - those employed in key public service positions with household incomes of less than $51,000 a year - with no-interest , second mortgages "to bring the purchase price down." HOME funds from the Thomas Jefferson Planning District Commission will help buyers to assemble a down payment or cover closing costs.
The program will serve the entire Charlottesville metropolitan area. But buyers receiving a loan must purchase a home in the community where they work. The house bought by a teacher in Fluvanna County schools must, for example, be in Fluvanna County. And, should the buyer sell their homes, a portion of any capital gains must be repaid to the Fund.
Since last fall, the CAAR Workforce Housing Fund has already helped families buy a home. But many more will follow since the CAAR sees its Fund as a "long term strategy" under which the "true measure" of its "success" won't come for twenty or so years when " the second and third generation of loans are made."