In remarks on Monday, July 11, 2005 at the unveiling of a new Partnership for Home Energy Efficiency, Secretary Alphonso Jackson urged HUD's customers, grantees and partners to adopt Energy Star products and practices in their HUD-funded projects. "I encourage every housing authority to adopt Energy Star as the standard for purchasing refrigerators and other appliances, and for building new housing," the Secretary said. "I'm also encouraging every HOME and CDBG grantee, as well as builders of housing for seniors and disabled persons, to adopt Energy Star for their new construction or rehab projects."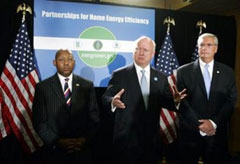 Two secretaries and admin.
The Partnership for Home Energy Efficiency is a multi-agency effort of the U.S. Department of Energy (DOE), Department of Housing and Urban Development (HUD), and Environmental Protection Agency (EPA) to bring greater energy efficiency to the U.S. housing market.
Americans spend more than $160 billion a year to heat, cool, light, and live in our homes. Without additional efforts to improve the efficiency of home energy use, our national home energy bill is expected to rise to $200 billion by 2015 and expend more of our natural resources. With these challenges in mind, the three agencies are coordinating the Partnerships for Home Energy Efficiency to make existing homes in the U.S. more energy efficient and help households save 10 percent or more on their energy bills over the next decade.
The interagency initiative builds on existing policies and programs that involve partnerships with manufacturers, retailers, home contractors and remodelers, utilities, states, financial organizations, and educational institutions, among others, to leverage the power and creativity of the marketplace.
Unlike other federal initiatives which have tended to focus on new construction, this initiative focuses on what homeowners and property managers can do to save money in existinghomes. HUD's contribution to this Administration initiative consists of the following initiatives:
HUD will continue to implement its wide ranging Energy Action Plan to reduce the estimated $4 billion annual utility bill of the nation's affordable housing stock. HUD will complete Phase I of the Energy Plan this fiscal year, and initiate a two-year Phase II plan in October, 2005. Key components of the Plan include:

Expanding the use of the Energy Star label (both for individual products and for new homes) in federally-assisted affordable housing.
Streamlining of energy performance contracting in public housing. Energy Performance Contracting is a guaranteed energy savings tool for housing authorities to secure private financing and expertise to pay for and install energy efficient measures.
Promoting the adoption of the Energy Star label in new construction and substantial rehabilitation projects funded through HOME, CDBG, HOPE VI and Section 202/811 housing for seniors and disable persons.
Expanding the use of Energy Efficient Mortgages to lower the cost of homeownership. Energy Efficient Mortgages allow FHA borrowers to borrow up to an additional $8,000 to pay for energy efficiency improvements when purchasing a home.
Providing training, technical information and resources for HUD staff, customers, partners and grantees, as well as building managers and residents, on the benefits of energy efficiency and cost-effective techniques for achieving it.

HUD will implement key elements of the PATH Roadmap for Energy Efficiency in Existing Homes. HUD is committing PATH resources to implement the following initiatives identified in the Roadmap:

In partnership with the remodeling industry, HUD is initiating a multi-year project to develop voluntary protocols for energy-efficient remodeling. The protocols will be developed with significant input from remodelers, energy specialists and consumers and existing home performance practitioners. The initial protocols are expected to be available for testing in September 2006.
In partnership with EPA and DOE, HUD is supporting the development of an industry-recognized contractor certification or credentialing program for energy efficiency. This work is being carried out by the Building Performance Institute, based in Albany NY.
HUD will issue a Request for Proposals to develop and pilot a standard retrofit package for specific housing types in particular local markets..(See HUD's Small Business Forecast at www.hud.gov).
PATH will continue to support field testing of energy efficient remodeling of existing homes and support cooperative research into energy-efficient technologies that have application to existing homes.

The Partnership has created a new web portal to provide consumers with a single point of entry for federal information about energy efficiency in their homes. For further information about the partnership, visit http://www.energysavers.gov.
Simultaneous with Secretary Jackson's announcement, a Notice describing the benefits of Energy Star in public housing was issued to all Housing Authorities. The Notice can be found at www.hud.gov/offices/pih/publications/notices/05/pih2005-25.pdf.