With the help of HUD and People's Self-Help Housing, a faith-based nonprofit in rural Eastern Kentucky, Mr. Larry Lester recently moved into his first new home in Burtonville, Kentucky. Diabetes caused Mr. Lester to become disabled and no longer able to meet the rigors of his job as a Licensed Practical Nurse. Living on a meager monthly Social Security disability income, Mr. Lester resided for 21 years in his older model mobile home. When he became confined to a wheelchair, the mobile home became too small for him to maneuver his chair, and the absence of a ramp made it nearly impossible to enter and exit his home.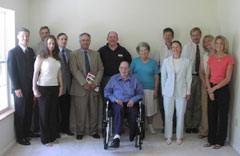 Mr. Lester and Housing Partners.
Mr. Lester moved in with an elderly aunt who lived down the road from his mobile home, to care for her and to be in a home more accessible to wheelchair use. But, as his aunt's condition worsened, Mr. Lester realized he would be homeless when she passed away because the estate would go to her children. So, Mr. Lester contacted People's Self-Help Housing to inquire about having a new home built on his property to replace his old mobile home.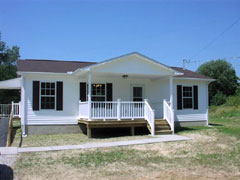 Mr. Lester's Home.
With the help of construction funding from revolved Community Housing Development Organization (CHDO), proceeds from HUD's HOME Program, a permanent loan from Citizen's Deposit Bank & Trust, a five-year forgivable loan for permanent financing from the Federal Home Loan Bank of Cincinnati's Affordable Housing Program, and a grant from the Appalachian Regional Commission for site development, People's Self-Help Housing was able to grant Mr. Lester's wish in spite his very limited income.
Sadly, Mr. Lester's aunt passed away the week construction was completed on his home. In the days that followed, friends and family helped Mr. Lester move into a new home that will provide comfortable living and peace of mind. In the midst of the joy that comes with owning a new accessible and energy-efficient home, Mr. Lester will always be reminded of his very realistic brush with being disabled and homeless.