Stacie Everett could not hold back the tears when she was presented an oversized key to her new home at 2631 North Minnesota Court in Wichita's MillAir Creek subdivision. As she stood proudly with her three sons, she spoke to a group of local housing officials and said she was thrilled to have this opportunity and thanked everyone who was involved in making it happen.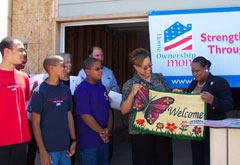 Staci Everett is presented a welcome mat as she stands with her three sons in front of her new home.
Everett purchased the three-bedroom house for $81,600 utilizing the City's HOMEownership 80 program that provides down payment assistance and is funded with HOME funds received from HUD. Executive Mortgage Group financed Everett's mortgage loan and Gold Key Realtor Vesta Florence worked with Everett for two years to educate her on the homebuying process and to "close the deal".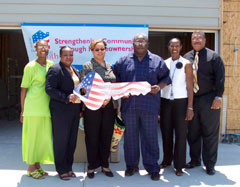 Local housing officials stand with Staci Everett in front of her new home: Vesta Florence, Gold Key Realtors; Regional Director Macie Houston; new homeowner Staci Everett; POWER CDC Director James Arbertha; Wichita's Housing and Community Services Director Mary Kay Vauhgn; Councilman Carl Brewer.
In addition to the "Welcome to Homeownership" celebration, Region VII Regional Director Macie Houston praised the city for its homeownership initiatives that are helping lower income families purchase homes. Wichita was one of 20 state and local governments around the country to be awarded HUD's prestigious "Doorknocker Award" in 2004 for the MillAir Creek development that provides affordable housing to low-income and underserved people. The City worked with a local grassroots organization, POWER CDC, to implement the homeownership program that when completed will provide 53 new single-family homes and increase both affordable housing opportunities and the number of homeowners in the city's Northeast community.