A Brockton mother and her three teenage children are proud owners of a new home thanks to HUD and a local program designed to produce affordable housing while helping train at-risk young people in the building trades. HUD and local officials welcomed Maribel Arce and her family into their own new home, constructed through the YouthBuild Program.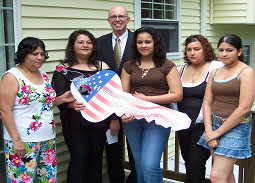 HUD Deputy Regional Director James Barnes presents a key to new homeowner Maribel Arce and her family.
YouthBuild Brockton, funded by HUD and administered by the Old Colony YMCA, is part of a nationwide network of 200 programs that aim to give young people ages 16-24, who never finished high school, a second chance to receive their diplomas. The funding helps train the youth for a future in construction trades while producing or rehabilitating homes for lower-income families. The newly built or renovated homes are then sold at affordable prices to low-income individuals and families.
"HUD is very committed to help young people gain the skills they need, to be competitive in today's job market and provide families with opportunities to become new homeowners," said James Barnes, HUD acting regional Director. "I wish Maribel and her family all the best as they join a record number of families who are discovering the American Dream."
The YouthBuild staff works closely with the local housing authority, supervising the construction site and constructing the house. The housing authority then sells the house to a low-income first-time homebuyer who is chosen by lottery and is a successful graduate of the Family Self-Sufficiency Program.