Jacksonville, Florida Mayor John Peyton greeted the new HUD Region IV Director Bob Young in his office following a press conference announcing the HUD award of $900 thousand dollars to The Emergency Services and Homeless Coalition of Jacksonville (ESHC). The funds will be received over 2 years to develop Project Home Safe, an initiative that will provide permanent housing with treatment and supportive services to 60 chronically homeless adults who have been living on the street for a long period of time, and who are addicted to alcohol.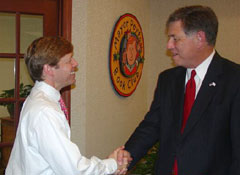 Regional Director Bob Young is the former Mayor of the City of Augusta, GA and brings a wealth of knowledge, skills, abilities and experience to HUD's Region IV operation. Mayor Peyton was eager to spend time with Regional Director Bob Young to share key thoughts "mayor to mayor" on HUD's professional support and contributions to the City of Jacksonville. Mayor Peyton praised the HUD leadership in Jacksonville and the working relationship he and his staff have with Field Office Director Nick Shelley.
Regional Director Young has made three working trips to Florida since assuming his position with HUD meeting community leaders, participating in housing events. RD Young has been well received by HUD staff in the field offices.