"Yes", my friend, said, one of those attending the Historic Germantown Nashville Night Out Against Crime neighborhood event, "it gives us a sense of pride being close to downtown and living in an area of urban revitalization that we have a distinct, historic neighborhood, but also this event gives us an opportunity to show Nashville that we stand with outlying neighborhoods against crime". And that was the theme of some 50 other neighborhoods all across Nashville and Middle Tennessee this past August 2, 2005, as well as across the nation during America's Night Out Against Crime (www.nationaltownwatch.org).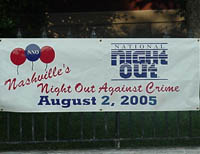 Facilitated by the Nashville Mayor's Office of Neighborhoods, Nashvillians celebrated with America's Night Out Against Crime for the tenth year in a row. Many neighborhoods held candlelight walks and visited adjacent neighborhood events so they could share their desire to help stop crime. Block parties, music, dancing and cookouts were held throughout Nashville, Murfreesboro and other Middle Tennessee areas.
"The Nashville HUD Field Office has participated with community events celebrating America's Night Out Against Crime for over six years" says Bill Dirl, Nashville HUD Field Office Director. "Our staff feels that this is an important event and each year have participated in activities throughout the Middle Tennessee area." This year Ed Phillips, Multifamily Program Center Director; Joe Purcell, and Terry Livingston attended events.
Nashville's Night Out Against Crime (www.nashville.gov/nightout/index.htm) is just one example of events held all year that create Music City's sense of community, whether it be in the form of entertainment, events for youth or children, concerts or other public events.
Historic Germantown is an area near downtown with extensive and on-going rehabilitation and home improvement construction. Some of the housing is nearly a century old. "Many folks didn't realize that HUD and FHA had a Rehabilitation Mortgage loan called the 203K and a home improvement loan called Title One," said Livingston. The importance of securing loans backed by the FHA and HUD is an invaluable service to homeowners doing rehab."

After the hot dogs and burgers, ice cream and soda, and as dusk settled on the hot, August sky in the mid-south, these folks knew they had contributed something special to the day.