Dee Benson, Public Housing Quality Assurance Specialist in HUD's Memphis Field Office, ran a half-marathon and raised $2,500 for the American Stroke Association. She also wrote an article about her effort that was published in the Millington Appeal. One of her heroes, Robertstine Payne, is a Program Assistant for Field Policy and Management in the Memphis Field Office. Her story, albeit abbreviated, follows: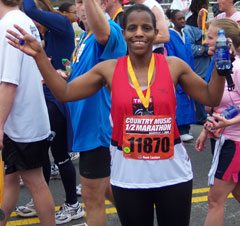 Dee Benson, Public Housing Quality Assurance Specialist in HUD's Memphis Field Office, celebrates the completion of the half-marathon in Nashville, TN
"I completed the Nashville Country Music Half Marathon as part of the American Stroke Association (ASA) Train to End Stroke Program. With the support of family, friends and the Millington, TN, business community, I was able to raise $2,500 for stroke research and education in memory of my mother and stroke heroes, Ms. Robertstine Payne and Dr. Timothy Armstrong, as well as other loved ones and friends. For several years, I received announcements through the mail from ASA offering me the opportunity to be a lifesaver and each year I ignored the announcements. However, this year was different from other years, because of personal loss and the closeness of individuals whose lives have been changed by a stroke, I felt compelled to make the commitment to be a lifesaver.
My stroke heroes, Ms. Payne and Dr. Armstrong, are such inspirational individuals. In spite of the life-changing impact strokes have had on their lives, both of them continue to be active and have a positive outlook on life. I cannot say that the training and preparation was easy, but looking at their lives made such a task minimal to say the least when compared to what stroke victims have to endure. So, on those days when the runs were long and hard, I gained strength and inspiration from my heroes. To have the ability to spring up out of bed each day is a blessing that I don't take for granted anymore."
Every 45 seconds an American has a stroke. Therefore, it is vital that we educate ourselves about the warning signs of a stroke, which will make a difference as to the severity of stroke and determine life or death.

Robertstine Payne, FPM's Program Assistant in the Memphis Field Office and stroke survivor, inspired Dee to compete in the Nashville Country Music half-marathon.
If you don't remember anything else, please remember the warning signs of a stroke:
Sudden numbness or weakness of the face, arm or leg, especially on one side of the body.
Sudden confusion, trouble speaking or understanding.
Sudden trouble walking, dizziness, loss of balance or coordination
Sudden trouble seeing in one or both eyes.
If you experience any of these symptoms, call 911 immediately.