Community leaders in Crossville Tennessee were looking for a way to promote and increase tourism. The Crossville Housing Authority (CHA) stepped up to the plate and agreed to partner with the Chamber of Commerce to run a TV station promoting tourism only if the Crossville Housing Authority low-income resident teenagers could manage, direct, and produce the show.
A partnership was created and the end result was the establishment of a show called "Crossville Profiles." The CHA formed "CHA Teens Need Training (TNT)." They began recruiting interested teenagers from 13-17 years of age. They are in charge of directing, filming, editing, and writing scripts. They learn to operate the cameras, work with lighting and backdrops, and organize the final product presented to the public on the air. They are gaining actual work experience in the media field.
The Executive Director and CHA Board of Commissioners and the Chamber of Commerce purchased the new media equipment and contracted with the Renaissance Center to provide training and technical support to the CHA public housing students and adult leaders. The Renaissance Center continues to educate and support the initiative.
The majority of filming takes place at the studio located at the Gateway Educational Center in Crossville, Tennessee. Housing Authority Volunteers and Service to America (VISTA) members provide transportation for CHA teenagers to the studio. On average, a minimum of 10 students participates and works on each filmed session. The students control, direct and film the television program. "Crossville Profiles" is obviously an all-star production on many levels. The teenagers conduct actual live-interviews about residents, families, neighborhoods, places and life in Cumberland County Tennessee.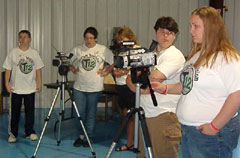 This is program is about success, self-esteem, confidence, work ethics, real life experience, and learning new skills. They produce a marketable product and are involved in a program providing them media work related experience. The audience of the Tourism Channels has increased as evidenced by the numerous telephone calls the chamber has received with comments and the number of request for specific interviews. The programs are now shown on three channels and reach other communities. They are public access channels and advertising is prohibited.
Students wear t-shirts with the motto "Training today's students for tomorrow's world." Public Housing teens living at the Crossville PHA are positive role-models for other public housing youth in America.