Nashville's Metro Housing and Development Agency (MDHA), Federal Emergency Management Agency (FEMA) and the Tennessee Emergency Management Agency (TEAM), brought the city's housing leaders together to staff a new one-stop housing assistance center that opened Monday, October 3, 2005 in downtown Nashville.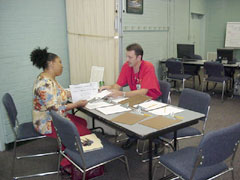 Registrants at Nashville's Housing Assistance Center has been light. Here, an evacuee is met by an employee of the Tennessee Emergency Management Agency.
The Metropolitan Development and Housing Agency (MDHA) (http://www.nashville.gov/mdha/index.htm) is a public housing authority, primarily responsible for housing, urban and community development, and other related programs. After Katrina hit, MDHA and its staff began planning with local, state and federal officials and non-profits, as well as with local housing trade organizations to successfully operate Middle Tennessee's only center for emergency housing assistance located at 1419 8th Avenue, North in Nashville.
HUD's Nashville Office and the quickly assembled task force arranged temporary housing for an estimated 17,000 persons. Other housing resources will be provided through HUD's privately-owned subsidized apartments and public housing authorities. Contact HUD staff on (615) 242-3673.
The Mid Cumberland Community Services Agency (MCCSA), and the Greater Nashville Apartment Association (GNAA) (http://www.nashvilleaptasn.org) teamed with the taskforce, and Urban Housing Solutions (USH) (offering transitional housing units), and other nonprofits in the area to assist FEMA registrants with housing. Some registrants wanted motel rooms, some wanted to apply for an apartment, some wanted to transfer their housing subsidy to a location in Tennessee. The various housing needs requested, were researched on computers by the Housing Assistance Center by accessing existing housing inventories of market-rate apartments, tax-credit financed developments, HUD affordable housing projects and/or units with a non-profit agency. "The housing options for this joint endeavor created new and diverse housing options for those ready to find housing," said John Fisher, Coordinator of the joint project from the HUD-Nashville Public Housing Office.

An employee from Urban Housing Solutions, a local assisted housing non profit, assists callers looking for information.
The Housing Assistance Center is the first of its kind in Nashville. With thousands of evacuees looking for housing, it serves as a one-stop housing center for Middle Tennessee. The concern is that many will not get registered before the time that funds for temporary quarters are limited. The hope is that evacuees will learn about the services offered and will immediately take advantage before the rush begins.
"The database of available housing is available now; the longer people wait, the less choice they may have," said Nashville HUD Operations Analyst, Terry Livingston. "Nashville's Field Policy and Management Office (FPM) is informing local, state and federal officeholders of its activities and the status of the situation," said William Dirl, Field Office Director. "We are currently working with local agencies, the Red Cross, FEMA our housing partners to assist evacuees, and to identify all of HUD's available housing resources."
FPM Operations Specialist, Marsha Webb, has been in contact with local shelters and housing centers throughout Tennessee to provide daily status reports on the numbers of those who were in shelters and are now in temporary quarters. Everyday, Ms. Webb diligently works with assistance partners to provide Regional Staff the information they need for HUD Headquarters in Washington.

Computers are available to find suitable housing with one-on-one assistance
"The work of the Nashville HUD Office Staff and their volunteering attitude exemplifies the national concern for those who have lost everything. We'll continue to do whatever is asked of us and we'll be glad to do whatever it takes to help these evacuees," said Dirl.
Effort continues with the mission to find existing housing and to expand housing options for new arrivals from Hurricane Rita. Normal processing procedures have been expedited to assist evacuees in this time of crises.
Nashville and the state of Tennessee can be assured that private-public-nonprofit partnerships are working.