On the weekend of October 15th, 2005, the 13th consecutive "Operation Stand Down" for veterans was held in Nashville on the grounds of the Tennessee National Guard Armory. Thanks to supporters of veterans services, non-profits, and public agencies, a local non-profit entitled Operation Stand Down (www.osdnashville.org/)-Nashville, Inc. (OSD) and its partners, were able to successfully generate hope, fellowship, and temporary housing for a full weekend to the area's homeless veterans.

Local Vets spend some "quality time" together.
The Nashville HUD Office, local non-profit housing partners, veteran's housing organizations such as Buffalo Valley's (www.buffalovalley.org/adtx.htm) Patriot Place and the Veteran's Restoration Ministry (www.vietnamveteransrestoration.org/) at Camp Samaritan and Camp Hope were all in attendance. These and other agencies volunteered to assist some 300 veterans for the four-day event.
Operation Stand Down offers veterans free medical care, legal services, employment services, food, entertainment and housing referrals. These services result from the participation of the Tennessee Army National Guard which is part of the Tennessee Department of the Military (www.tnmilitary.org/). Veterans can retreat or "stand down" from their normal routine in a clean and safe environment.

These guys know when its time to eat. Hot meals were served.
Nashville's, HUD Operations Analyst, Terry Livingston provided rental and transitional housing information, as well as a host of veteran's related information from partner agencies. Other Nashville volunteers included HUD's Joseph Purcell and Ron Austin.
"Without those who volunteer their time to assist the organization's efforts to complete the needed tasks, the larger goal is not achieved. Each individual contributed something to make the event a success," said Livingston.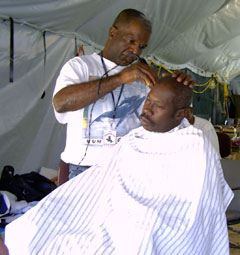 You know it's right when it's time for a haircut.
Information offered by HUDVET, part of HUD.gov's website, was also provided to the Veterans.
Each year Operation Stand Down provides volunteer medical teams and veteran's services employees from the Department of Veterans Affairs (www1.va.gov/directory/guide/facility.asp?ID=236&dnum=ALL&map=1) (DVA) in Nashville. DVA prepares and provides the vital services that veterans need such as haircuts, meals and counseling.
Many homeless veterans had a warm and safe place to sleep. They found hope, guidance and temporary security. Operation Stand Down was a weekend of success and offered veterans the opportunity to "stand down" with their compatriots.