Two days before Katrina hit, Van Patin, a Vietnam Veteran who is an amputee, was released from the VA hospital in Shreveport. Due to Katrina bearing down on the Gulf Coast, he was unable to return home to his apartment in Baton Rouge and ended up in an American Red Cross shelter in Baker, Louisiana.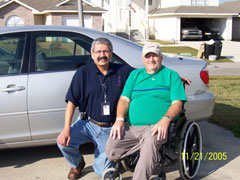 George Mejia and Van Patin.
His apartment was damaged. He salvaged his belongings and continued to live in the shelter.
On November 2, 2005 he came to the attention of the Joint Housing Solution Center in Baton Rouge under the leadership of Herman Ransom from the Kansas City Office. The case was assigned to HUD employee Sandy Freemen from the St. Louis Office. She contacted Mr. Patin and started working to find him suitable housing. Two days later, the shelter where Mr. Patin was staying was set to close and no housing could be found.
Ms. Freeman called around and found space in the Miracle in Place shelter in Baker, Louisiana. As he had no way to get there, Sandy went to his shelter, loaded up his belongings and moved him to his new shelter.
She continued to look for housing for Mr. Patin to no avail. She used HUD, VA, and FEMA resources. No luck. Her deployment was now over and she turned the case over to Murrianna Holmes from the Buffalo Office.
Ms. Holmes continued the search for housing. She found a lead for a HUD home in Lafayette, Louisiana. Working closely with Lionel Hotard from CitySide Management and Mr. Patin she tried to get him in the house. When Murrianna and George Mejia, from the Minneapolis HUD Office, visited Mr. Patin in his shelter on November 19, he advised them that the Department of Veterans Affairs had found him space in a VA facility better suited to his needs. All he needed was to make arrangements to move his belongings to Harvey, Louisiana.
On November 21, Mr. Patin's shelter was scheduled to close. Mr. Mejia, a fellow Vietnam Veteran, contacted Mr. Patin to see if he had made arrangements to move to his new home. Mr. Patin had not been successful. Immediately, Mr. Mejia rearranged his workday in order to assist the move. Mr. Mejia drove to the shelter, tracked down Mr. Patin, loaded Mr. Patin's belongings and wheelchair into the car, and drove to Mr. Patin's his new home where he assisted Mr. Patin in registering and moving to his new home.
After many weeks and many adventures, Van Patin finally ended his journey down the long road home.